Ma says '1992 consensus' policy led to truce
'PEACE AND PROSPERITY': The mutual recognition of the '1992 consensus' led to eight years of cross-strait diplomatic truce, former president Ma Ying-jeou said
Former president Ma Ying-jeou (馬英九) yesterday said the official recognition of the so-called "1992 consensus" by his administration did not damage national sovereignty, but resulted in "diplomatic room" and a "diplomatic truce" with China.
Ma made the remarks in his opening speech to an economic forum in Taipei held by the China Cross-Strait Culture and Trade Development Association.
The "1992 consensus" — a term former Mainland Affairs Council chairman Su Chi (蘇起) admitted making up in 2000 — refers to a tacit understanding between the Chinese Nationalist Party (KMT) and Beijing that both sides acknowledge there is "one China," with each side having its own interpretation of what "China" means.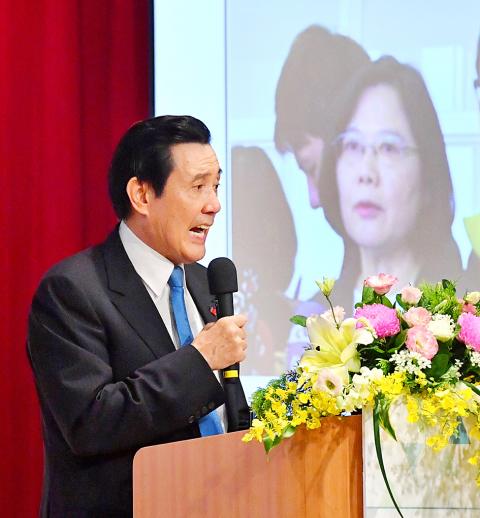 Former president Ma Ying-jeou yesterday speaks at an economic forum organized by the China Cross-Strait Culture and Trade Development Association in Taipei.
Photo: CNA
Ma said the mutual recognition of the "1992 consensus" led to eight years of diplomatic truce under his administration, allowing the nation's participation in the World Health Assembly and the International Civil Aviation Organization, as well as visa-free travel with 164 nations.
President Tsai Ing-wen's (蔡英文) refusal to recognize the "1992 consensus" is to blame for the nation's exclusion from the same international meetings, its loss of diplomatic allies and the forced relocation of several of its representative offices, he said.
Ma gave the government credit for maintaining the "status quo," but added that the "1992 consensus" is a part of the "status quo."
Exchanges with China are pursued by many nations and Taiwan cannot afford to be closed off from China, he added.
It would bring him "great personal satisfaction" if the Democratic Progressive Party administration would recognize the "1992 consensus," return cross-strait relations to normalcy and "restore original peace and posterity," he said.
Unification with China should not be a closed topic, but the precondition of peace and democracy on both sides should be met before the talks can be held, he added.
Separately yesterday at a cross-strait summit, former vice president Wu Den-yih (吳敦義) said: "So long as the Chinese cultural heritage is preserved, it is impossible that 'one China, with different interpretations' will be interpreted as 'two Chinas' or 'one China and one Taiwan.' Rather, the term means the 'one China' principle, with each sides having its own interpretation, guaranteeing peace and prosperity across the strait."
Comments will be moderated. Keep comments relevant to the article. Remarks containing abusive and obscene language, personal attacks of any kind or promotion will be removed and the user banned. Final decision will be at the discretion of the Taipei Times.