Unions protest 'exploitative' rules in Taipei
Regulations allow exploitative overtime hours to be imposed on transportation workers, labor groups said yesterday in a protest outside the Ministry of Transportation and Communications building in Taipei on the one-year anniversary of the China Airlines strike.
More than 100 members of several transportation unions shouted slogans and threw balloons filled with red water at the ministry's doors to symbolize the "blood and sweat" they say ministry rules force them to give to their employers.
"Last year, we fought for the right to rest and we are still fighting today, because the government's and China Airlines' promises of reform have fallen through," Taoyuan Flight Attendants' Union director Lin Hsin-yi (林馨怡) said.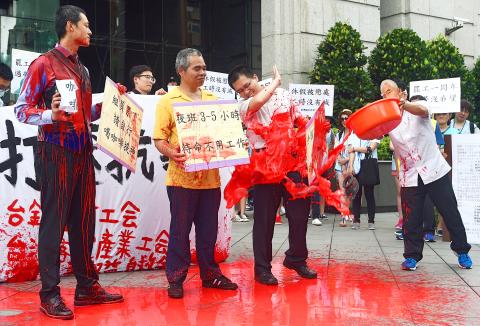 Protesters from several transportation unions yesterday perform a skit outside the Ministry of Transportation and Communications building in Taipei to protest against regulations that they say allow exploitative overtime hours to be imposed on transportation workers.
Photo: Chien Jung-fong, Taipei Times
Union board director Chu Liang-chun (朱良駿) cited a decision by China Airlines to cut employees' rest time between transoceanic flights, along with rumors that the Civil Aeronautics Administration is considering reducing the ratio of flight attendants to passengers.
"The law should be a minimum standard that you are allowed to occasionally cross," he said, adding that while the cuts had sometimes led to illegally short rest time, China Airlines' proactive reporting of violations had spared it from being fined.
Union president Chao Kang (趙剛) also criticized the ministry for sending a request to the Ministry of Labor asking it to tighten notification requirements for strikes.
"It wants us to be required to report the date, duration and number of people involved in any strike beforehand to enable corporations to take responsive measures," he said. "We can already only strike after winning approval in a formal union vote — is that not a clear enough notification?"
After winning approval in an open vote, the unions last year called a snap strike earlier than expected on the same day that China Airlines' leadership was replaced, swiftly extracting salary concessions in the subsequent chaos.
"Since last year's strike, the problem of overwork in the transportation sector has gotten worse," Taiwan Railways Union president Wang Jieh (王傑) said, citing attempts by the Taiwan Railways Administration to discipline union members for taking a "legal holiday" without permission during the Lunar New Year.
Administration officials have continued to refuse to hold talks with the union on changing the rotating shift system, under which employees work long overtime hours in lieu of standard weekly days off, he said.
Taipei Rapid Transit Corp has progressively reduced the rest-to-work time allotted to employees during long shifts, Metro Train Drivers' Union president Chen Chung-wei (陳崇瑋) said, also criticizing the firm's definition of "rest" as including time employees are required to be on standby.
Taiwan Motor Transport Industrial Union director Chang Li-tsung (張立宗) criticized bus firms for only paying drivers for time behind the wheel and denying overtime pay through the use of "flexible working hours."
Comments will be moderated. Keep comments relevant to the article. Remarks containing abusive and obscene language, personal attacks of any kind or promotion will be removed and the user banned. Final decision will be at the discretion of the Taipei Times.