New Southbound Policy: Local firms look to boost regional clout
'COLLABORATION': Taiwanese firms should not deem Southeast Asian nations backward economies or try to cut corners, Deloitte Taiwan partner Jerry Gung said
President Tsai Ing-wen's (蔡英文) government has been urging local businesses to bolster their trade ties with 18 nations in South and Southeast Asia to mitigate Taiwan's economic reliance on China.
Under the "new southbound policy" introduced last year, the government aims to develop reciprocal trade deals by offering credit guarantee funds and renewing bilateral investment protection agreements with the nations targeted by the policy.
"It is not the first time that the government is encouraging companies to shift investments to Southeast Asia, but the mindset of the new policy is totally different," said Y.C. Tsai (蔡允中), a negotiator from the Office of Trade Negotiations, the Cabinet-level agency responsible for implementing the policy.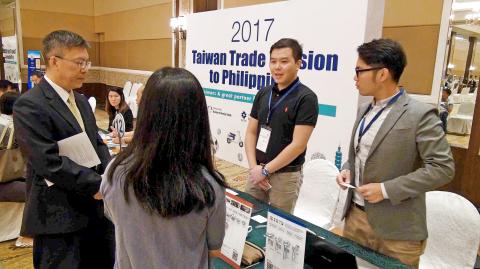 Company representatives from Taiwan and the Philippines on Thursday meet at a trade event organized by the Taiwan External Trade Development Council in Manila.
Photo: CNA
"The southbound policies of former administrations were more supply-oriented, as policymakers back then only thought about how to export Taiwanese products to the region," Y.C. Tsai said in an interview earlier this month.
However, the Democratic Progressive Party government hopes to shift the focus to the actual needs of Southeast Asia, taking local characteristics into account, he said.
Walter Yeh (葉明水), executive president of the Taiwan External Trade Development Council, a trade promotion agency, echoed those remarks.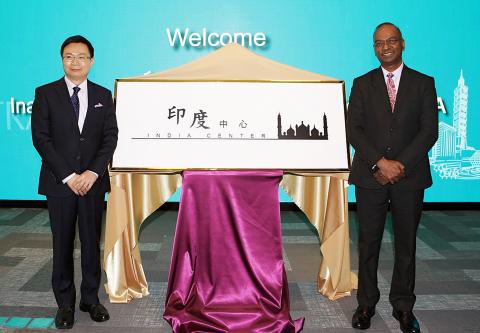 Taiwan External Trade Development Council Chairman James Huang, left, and India-Taipei Association Director-general Sridharan Madhusudhanan pose at a ceremony to launch the council's India Center in Taipei on April 26.
Photo courtesy of Taiwan External Trade Development Council
Taiwanese firms need to identify the key differences among Southeast Asian nations and must be sensitive to the rapid changes in customer needs there to stay competitive, Yeh said on Friday last week.
"The top priority [for local companies] is to develop a profound understanding of Southeast Asian nations and get rid of stereotypes about them," Yeh said.
The council is working on several projects to help local firms obtain halal certification, he said.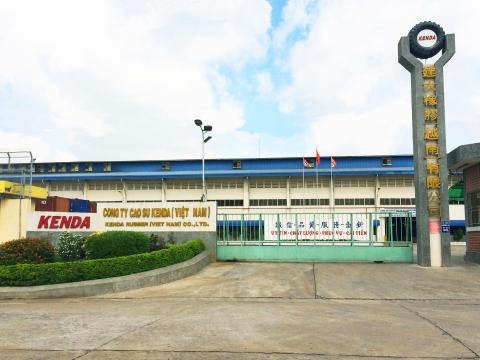 Taiwanese tiremaker Kenda Rubber Industrial Co's plant in Ho Nai Industrial Zone in Vietnam's southern Dong Nai Province is pictured in an undated photograph.
Photo courtesy of Kenda Rubber Industrial Co
For example, pork, alcohol and intoxicating beverages are prohibited in the Islamic market, Yeh said.
In April, the council launched the Taiwan Halal Center in Taipei as part of its efforts to provide information to the market and match business partners who show an interest in Southeast Asia.
The council hopes to help Taiwanese companies grab more business opportunities through collaborations with e-commerce operators in Southeast Asia, Yeh said.
Blibli.com, the largest online shopping platform in Indonesia, will start selling Taiwanese-made cosmetic and maternal and infant care products in the third quarter, the council said.
TIREMAKERS
Some Taiwanese firms have launched plans to expand their presence in Southeast Asian markets, including Kenda Rubber Industrial Co (建大輪胎), one of the biggest tire manufacturers in the nation.
Kenda's plant in Vietnam has been in operation for 20 years, with daily a production capacity of 35,000 motorcycle tires and 40,000 bicycle tires, while its factory in Indonesia — which started production last month — can produce 200,000 bicycle tires per day.
The decision to expand capacity in Southeast Asia reflects not only the attraction of lower labor costs there, but also a need to increase exposure to potential customers in the region, a company official told the Taipei Times.
"We had to form a joint venture with Vietnamese companies to conform to local rules regulating foreign investments there," the official said, adding that the restrictions put immense pressure on the plant's profitability in the early years.
However, the challenge has not stopped the Changhua-based firm from undertaking more investments in Southeast Asian markets, backed by a robust demand for vehicles in the region.
Kenda is also considering an expansion of its footprint in India in light of the high number of motorcycle users there, the official said, without providing a timetable.
TEXTILE INDUSTRY
Two leading Taiwanese companies from the labor-intensive textile and apparel industry — Eclat Textile Co (儒鴻) and Makalot Industrial Co (聚陽) — plan to expand their operations in Southeast Asia, eyeing lower personnel costs and emerging industry clusters in the region.
Eclat in December last year dissolved its wholly owned clothing plant in China, primarily due to soaring labor costs.
However, the company said it plans to raise output at two of its Vietnamese plants this year, which is expected to boost its monthly production capacity from nearly 6.2 million units of clothing to 7.5 million.
Meanwhile, Makalot said it is building new production lines at its Vietnamese and Indonesian plants, which are expected to lift its overall capacity by 10 percent this year from last year's 13 million units of clothing per month.
ONLINE SERVICES
Some online service providers have also expressed interest in Southeast Asian markets, saying the expanding middle class in the region is expected to be the next growth driver.
"Given increasingly tough competition in Taiwan's saturated market, we are seeking business potential in new markets," said Sega Cheng (程世嘉), chief executive officer of iKala Interactive Media Inc (愛卡拉互動媒體), which offers live-streaming cloud services.
It is still not too late for Taiwanese service providers to expand their presence in Southeast Asia, Cheng said by telephone on Friday last week, citing a lack of Internet infrastructure and experienced talent in the region.
The Taipei-based service provider plans to tap into Indonesia's and Thailand's booming Internet service market in the coming years, due to wider consumer acceptance of foreign brands there, Cheng said.
The firm is also looking to collaborate with other Taiwanese firms, especially those that have been running businesses in Southeast Asia for decades, to capitalize on existing social networks, he said.
"Our business partners [in Indonesia and Thailand] might be in the human resources or manufacturing industries, as they are also eager for transformation," Cheng said.
Addressing the challenges of expanding the firm's footprint in emerging markets, Cheng said one key problem for Taiwanese service providers is a lack of financial support, which hampers the development of promising start-ups.
"It is not easy for small and medium-sized service providers to obtain corporate loans from banks, as the design of financial systems [in Taiwan] is not friendly to start-ups," he said, referring to the absence of angel investors.
Apart from considering financial risks, Taiwanese companies should develop strategies to benefit from tax incentives offered by the governments of Southeast Asian nations, Deloitte Taiwan partner Jerry Gung (龔則立) said on Tuesday.
Gung, who provides consulting services to Taiwanese firms planning to expand their business in Thailand, said some Southeast Asian nations — such as Thailand, Malaysia and Vietnam — have been trying to attract foreign investment by providing tax exemptions.
Thailand's Board of Investment offers corporate income tax exemption up to 13 years, and import duty exemption on goods imported for research and development purposes, he said.
"It is important for Taiwanese companies to rethink how to conform with local regulations in emerging markets, as what made you so successful in the past might not work so smoothly now," he said, citing Southeast Asian nations' tighter controls against money laundering and tax evasion.
"Do not deem these nations backward economies or try to cut corners. The benefits of collaboration should be reciprocal," Gung said.
The Taipei Times is to publish a series of articles focusing on President Tsai Ing-wen's government's "new southbound policy" in collaboration with the Office of Trade Negotiations of the Executive Yuan. The articles are to be printed every Saturday.
Comments will be moderated. Keep comments relevant to the article. Remarks containing abusive and obscene language, personal attacks of any kind or promotion will be removed and the user banned. Final decision will be at the discretion of the Taipei Times.