Taiwan photo editing app a global hit
RUNAWAY SUCCESS: The developers were stunned when there were 3,000 downloads of the app on the first day it was made available, and 400,000 within the first month
With 150 million users worldwide, photograph editing app PicCollage is a global best-seller whose success has surprised its Taiwan-based developer Cardinal Blue Software.
The app is used by 50 million people in the US, 80 percent of whom are women, John Fan (樊立勳), the Taiwanese-American cofounder of Cardinal Blue Software, said on Tuesday last week.
Downloads of the app spike over holidays such as Mother's Day, when people use it to create personalized collages to send their best wishes to friends or family, Fan said.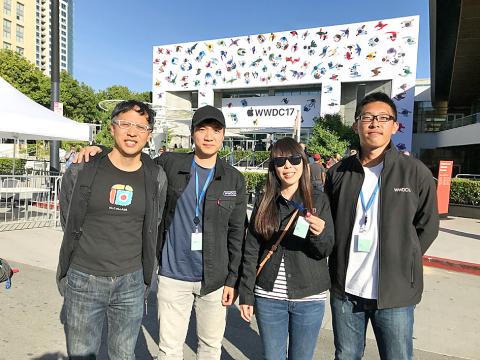 From left, Cardinal Blue Software co-founder and CEO John Fan, Cardinal Blue iOS software developer Wang Han-lin and iOS software engineers from Hsinchu tech startup Sixnology Chiu Hsin-ying and Chen Wei-chiao attend Apple Inc's annual Worldwide Developers Conference in San Jose, California, on Tuesday last week.
Photo: Chen Ping-hung, Taipei Times
On such holidays, it is not unusual for PicCollage to become the fourth-most popular app download worldwide after YouTube, Instagram and Snapchat, he said.
One in three US women uses the app, and one in six Americans has PicCollage on at least one of their devices, Fan said.
A team at the firm developed the app with the 9.7-inch iPad in mind, because members thought its monitor was well-suited for photograph-editing and one member enjoyed the activity, he said.
The initial version of the app was a simple affair that took only one month to make, he said, adding that the team made a test version available online, hoping it would garner 100 downloads.
The team was stunned when there were 3,000 downloads of the app on the first day and 400,000 in the first month, putting the app among the top-10 most popular downloads of the period in the UK, the US, Canada and Mexico.
The first iteration of the app did not allow users to add text or make collages, but it was stable and easy to use, Fan said.
PicCollage is continuously improved to keep it popular with new users and an update adding extra editing tools is introduced every week, or 50 updates per year, he said.
Since then, the number of users has increased by an average of 50 million every two years, he said.
"PicCollage now has 150 million users because we have constantly added new functions while keeping it easy to use," he said.
The app's success has spawned many imitators, including copyright violators who copied PicCollage's function names and icons, Fan said.
The firm encourages users to report such behavior, but it is not too disturbed by such activities because copycats "cannot copy the essence of our company's innovation," he said.
PicCollage's main purpose is to provide users with the tools to create personalized and meaningful images for their friends and family and since everyone has friends and family, the demand for the app will always remain, he said.
Apple Inc has launched Core ML, a machine-learning app, but PicCollage already began testing a similar concept with the "magic" mode of its Android version, Fan said.
The mode enables a machine-learning program that automatically selects a user's photographs for color adjustment and editing, encouraging users' creativity by making collages easier to make, he said.
The development team has been encouraged by meaningful uses of the app, such as an animal shelter that uses PicCollage to advertise animals that are open for adoption, he said.
The team also received a thank-you note after Valentine's Day from a grateful user, who said his girlfriend was pleased by a collage he had made, Fan said.
"The team is very happy when things like that happen; we feel that making an app that brings people together and contributes to good causes is a meaningful pursuit," he said.
Comments will be moderated. Keep comments relevant to the article. Remarks containing abusive and obscene language, personal attacks of any kind or promotion will be removed and the user banned. Final decision will be at the discretion of the Taipei Times.