FEATURE: Chi Po-lin died pursuing his dreams
Filmmaker Chi Po-lin (齊柏林) gave up many things to pursue his dream of documenting Taiwan through aerial photography.
He mortgaged his house, borrowed money from friends and quit his job as a civil servant at the age of 47 — just three years before qualifying for a lifetime pension — all to make his 2013 documentary Beyond Beauty: Taiwan From Above (看見台灣), which became the highest-grossing documentary in Taiwanese history.
On June 10, the acclaimed director lost his life at the age of 52 while doing what he loved most — shooting images of his homeland from a helicopter.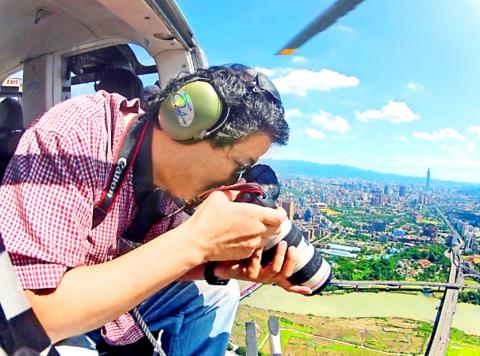 Filmmaker Chi Po-lin records footage for the sequel to his documentary Beyond Beauty: Taiwan From Above in an undated photograph.
Photo courtesy of Taiwan Aerial Imaging
The aircraft that carried the father of two and his 25-year-old assistant photographer, Chen Kuan-chi (陳冠齊), crashed while filming in Hualien County, resulting in their death and that of pilot Chang Chi-kuang (張志光). The team was filming for the sequel to Beyond Beauty when the accident happened.
News of Chi's death shocked film and cultural circles.
"Contemporary Taiwan has just lost someone like Chi Po-lin — a man of conscience who was willing to sacrifice himself," said commercial director Lu Chien-chang (盧建彰), who shot a short film featuring Chi for Google Inc in 2012.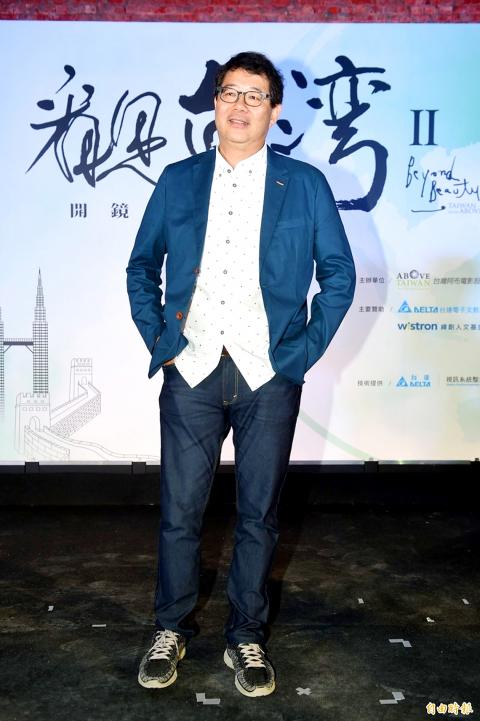 Filmmaker Chi Po-lin records footage for the sequel to his documentary Beyond Beauty: Taiwan From Above in an undated photograph.
Photo courtesy of Taiwan Aerial Imaging
Lu, who later became close friends with Chi, described the director as a warm and kind person.
"He always had a smile on his face and almost never got angry with people, whether he was dealing with work or other challenges," Lu said. "I never saw him say mean words to others. He was always a warm person."
"He risked his life in the air for every photograph he took. My heart aches tremendously," TV commentator Sisy Chen (陳文茜), another friend, wrote on Facebook.
Chi, who had more than 20 years of experience filming from helicopters, appeared to be fully aware of the risk involved.
In writings and interviews, the director recounted some of the scarier moments he had experienced, especially when filming over mountainous areas.
One time, filming at Yushan (玉山), Chi's helicopter pilot lost control of the aircraft after encountering a turbulence, Chi wrote in one of his books. "My mind went blank. Before I could say my prayers, I screamed and shouted instinctively. In those seconds, I really believed the chopper was going to go down."
"That was not the only time...fortunately, we were always able to pull off a narrow escape, but no matter how many times this has occurred, I am still frightened when it does. I never dare tell my family these things because I am afraid they would worry," he wrote.
Every time something like this happened, Chi told himself to quit flying and not take the risk, he said.
"However, after I wake up the next day, or after some time has passed and I see the good weather and good visibility, I always want to fly again," he wrote.
Chi's passion for aerial photography began while he was an employee at the Ministry of Transportation and Communications, where he was responsible for documenting major construction projects such as highway construction from the air.
As his interest grew, Chi rented helicopters in his spare time to take pictures of Taiwan's mountains, coastline and other scenery.
In 2009, after witnessing the damage inflicted by Typhoon Morakot, which triggered the worst flooding in Taiwan in half a century, Chi purchased his own filming equipment for about NT$30 million (US$996,413), quit his job and set off to make a film to warn people about the importance of environmental protection.
"At the age of 47, just three years before I became eligible for retirement, I quit my civil servant job to become a full-time aerial photographer. I will be dedicating the rest of my life to what I love the most. I am very frightened, but very happy," he wrote in his book.
Beyond Beauty cost NT$90 million and took three years to make, 400 hours of which were spent in the air. It is widely considered to have played an important role in making people more aware of the beauty of Taiwan, as well as the human-caused environmental destruction caused by decades of rapid economic growth.
The film won the best documentary award at the 50th Golden Horse Awards in Taipei, Taiwan's most important film awards.
It also led to a government crackdown on environmental offenses such as illegally built guesthouses in mountainous areas, industrial pollution in rivers and illegal mining operations.
In a 2011 video, in which Chi was filmed speaking with then-president Ma Ying-jeou (馬英九), the director said he hoped to become Taiwanese people's "pair of eyes in the sky" and to show the nation's natural beauty to its people.
Following Chi's death on Saturday, Chi's son wrote in an online post that his father "loved [Taiwan] so much he was prepared to give up his life."
Speaking at a news conference on Thursday, World Oceans Day, Chi, wearing a blue suit, announced his ambition for the sequel to be released in 2019.
The director said he had visited more than 30 countries to scout for locations and planned to film it mostly in Taiwan, but also in other countries, such as Japan, New Zealand, Malaysia and China, because he wanted people to recognize that environmental problems know no borders.
In addition to filming from the air, the new documentary would also take viewers into the ocean and discuss problems such as marine waste, Chi said.
The film would also trace the footsteps of Taiwan's ancestors and teach people about the plate collision that formed Taiwan, he said.
"I hope the sequel will allow more people to get to know the past, present and future of Taiwan. I especially hope that it will give our young people an international perspective ... and allow the world to see more of Taiwan, and Taiwan more of the world," he said.
In a concert in Tainan on Saturday night, the Vox Nativa children's choir, which appeared in an iconic scene on top of Yushan mountain in Beyond Beauty, performed Chi's favorite song, the Japanese song Kikyuu ni Notte Dokomade mo ("Fly Away on a Balloon"), to remember the director.
"He is free now. He will truly fly in the sky forever," Vox Nativa Association executive member Akuan Liao (廖達珊) said.
Comments will be moderated. Keep comments relevant to the article. Remarks containing abusive and obscene language, personal attacks of any kind or promotion will be removed and the user banned. Final decision will be at the discretion of the Taipei Times.