Military mulls production of self-propelled howitzers
The Ministry of National Defense is considering producing self-propelled howitzers by converting CM-32 "Clouded Leopard" wheeled armored personnel carriers, ministry spokesman Major General Chen Chung-chi (陳中吉) said yesterday.
A self-propelled gun could be produced by mating the chassis of the 25-tonne, eight-wheeled CM-32 with an M114 155mm howitzer, Chen said.
The new vehicle is only a concept and army units have yet to submit an operational need for it, which would be required for the ministry to move forward with setting manufacturing volume, unit cost and project goals, he said.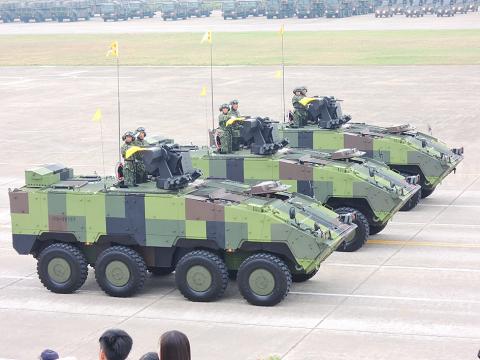 Republic of China Army CM-32 "Clouded Leopard" eight-wheeled armored personnel carriers take part in a parade on Monday.
Photo: Lo Tien-pin, Taipei Times
The army is studying how the hypothetical artillery piece should be deployed for maximum operational effectiveness, he added.
First unveiled in 2005, the domestically produced CM-32 has been plagued by design flaws and budgetary irregularities during development.
Chung-Hsin Electric and Machinery Manufacturing (中興電工), the main contractor for the CM-32 program, has been accused of falsifying accounting records and buying substandard components from China.
Last year, 12 Chung-Hsin employees were convicted of violating the Business Entity Accounting Act (商業會計法), while legal proceedings against the firm's CEO and military personnel involved in procurement are ongoing.
The ministry is to stringently adhere to all relevant laws and regulations in future arms purchases, Chen said, adding that it respects the oversight provided by the Legislative Yuan and the media.
The ministry said it plans to expand the CM-32 program from an armored personnel carrier to a family of vehicles with additional roles, including those of mortar carrier, a cannon-equipped infantry fighting vehicle, a mobile gun platform and self-propelled artillery.
In previous reports to the legislature, the ministry said the self-propelled artillery based on the CM-32 would provide fire support for the army's mechanized infantry brigades and would have high mobility and digital communications.
Comments will be moderated. Keep comments relevant to the article. Remarks containing abusive and obscene language, personal attacks of any kind or promotion will be removed and the user banned. Final decision will be at the discretion of the Taipei Times.