Navy wants more advanced systems
FINE-TUNING: The navy is to hold additional meetings later this year with potential contractors to discuss changes to its specifications and designs for the new ships
The Republic of China Navy's next-generation frigates are likely to be equipped with an active electronically scanned array (AESA) as well as other weapons, a Ministry of Defense official said.
The combat systems designed by Chungshan Institute of Science and Technology for the frigates are to be the equivalent of and be interoperable with Aegis combat system-equipped US warships, said the ministry official, who wished to remain anonymous.
The navy plans to build six to 10 of the frigates.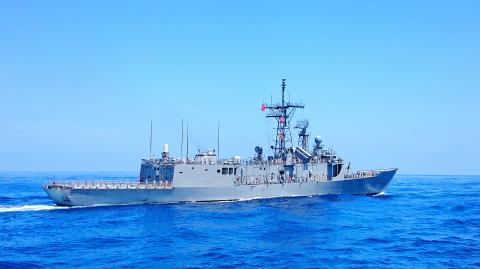 One of the navy's Cheng Kung-class frigates, based on the design of a US Navy Perry-class frigate, is picture in an undated photograph.
Photo: Lo Tien-bin, Taipei Times
Unless the bulk of the AESA radar is reduced by redesigns, the system's installation on the frigates would increase each vessel's total displacement from 4,000 tonnes to between 4,500 tonnes and 5,200 tonnes, the official said.
The likely changes to the ship class' specifications would increase its projected hull length and width from 135m and 15m to 138m and 16.5m respectively, the official said.
Frigate specifications are subject to alterations according to the needs of the navy and the specifications of the equipment designed by the Chungshan Institute, so they will not be completed until late next year, the official said.
The official, who is familiar with the design and procurement process, said the frigate design and purchase plans are divided into phases.
This year and next year the military is to draw up the frigates' design specs and contract with a projected budget of NT$49.29 million (US$1.64 million), the official said.
A prototype is to be constructed between 2019 and 2021, and its budget is to be determined by the costs of the ship's detection system and armaments.
After field trials of the prototype, the specifications will be fine-tuned before production starts on the rest of the frigates.
The navy held a conference in Kaohsiung with potential contractors to discuss specification changes, the official said.
As the navy finalizes designs and specifications, two or three more conferences will be held this year to announce them, he said.
Sources have previously said that the navy wants the next-generation frigates to have powerful anti-aircraft and anti-ship capabilities, and they are to be equipped with AESA radars with an effective range of 300km.
The frigates are to be armed with vertical-launch systems capable of firing Tien Kung III anti-aircraft missiles and Hsiung Feng II and Hsiung Feng III anti-ship missiles and 76mm guns.
Comments will be moderated. Keep comments relevant to the article. Remarks containing abusive and obscene language, personal attacks of any kind or promotion will be removed and the user banned. Final decision will be at the discretion of the Taipei Times.