Japan eager to cooperate on Internet of Things
This year's Computex exhibition in Taipei concluded its second to last day yesterday with calls for more Taiwanese-Japanese cooperation from Japanese participants at two technical forums presented by Japanese IT consortiums, which were attended by many Taiwanese company representatives who sought business collaborations.
Elsewhere, players were battling it out in the final rounds of computer game and computer overclocking competitions.
International and Taiwanese investors, IT managers and technicians in the past week converged on Computex, which is to wrap up this evening at the Taipei World Trade Center (TWTC) exhibition hall, and the Nangang Exhibition Center.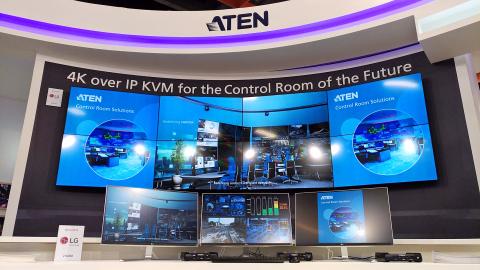 A digital control center designed by ATEN International Co Ltd is displayed at Computex in Taipei yesterday.
Photo courtesy of ATEN International Co.
The venues are open to the general public today: a NT$200 ticket grants entry to all areas and events, including an exhibit for start-ups at TWTC Hall 3.
In the two last technical forums yesterday, the focus was on Internet of Things (IoT) solutions and electronics telecommunication development in Japan.
As they painted a roadmap of the future and shared trend forecasts, Japanese company representatives called for more business partnerships and for forging an alliance with Taiwan's IT industry.
Managers and engineers from Japanese tech giants NEC and Hitachi presented their research and work development work on Internet of Things and Embedded Technology, as well as new advances in artificial intelligence and robot operating systems, followed by presentations by officials from the Japan Embedded Systems Technology Association (JASA) and JTB Group's communication design unit.
Hiroshi Kotada from JASA said many Japanese technology companies are pursuing the next stages of IoT, fog computing and edge computing, as well as the development of "Industry 4.0", which will open up huge business opportunities around the world.
"There will be a large demand for IT technicians, designers and project managers for these new IoT and computing technologies," Kotada said. "Japan's big business consortiums and small-to-medium enterprises all realize that there will be talent shortages in these sectors in the coming years," Kotada said.
Japan has good basic fundamentals and has laid down a framework for the coming industry trends, he said, adding that those would be driven by IoT, robotics, artificial intelligence and other new IT and computing technologies that would completely change people's lifestyles and the ways they work.
"Robotics and artificial intelligence will bring on new modes of production and change people's jobs and the traditional workplace," he said.
"IoT and its related computing technologies will bring on Industry 4.0 … We are witnessing [a] new industrial revolution in our lifetime," Kotada said.
"Right now, we already have lots of Taiwanese companies working in partnership with counterparts in Japan on these new technology trends. For these developments, enterprises in Taiwan and Japan can collaborate on programs and joint ventures to cultivate the big demand for human talent, for new research directions, and [to] forge partnership for supply chain production," he said.
"To keep on top of these new trends and changes in IoT technology, Taiwan and Japan must work together to complement each other's industrial needs and capacity, and therefore to become the leading forces and continue to stay competitive [to take advantage of] new business opportunities around the world in the coming years," he added.
Meanwhile, visitors looking for relaxation were treated to international teams clashing in the final rounds of the Zotac Cup videogames competition, playing Defense of the Ancients 2, a popular multiplayer online battle video game, and cheered on contestants at the Computer Overclocking World Cup grand final, where the winner took home US$10,000 in prize money.
Comments will be moderated. Keep comments relevant to the article. Remarks containing abusive and obscene language, personal attacks of any kind or promotion will be removed and the user banned. Final decision will be at the discretion of the Taipei Times.