CUPP vandal films self, woman smash school's stone lions
A pair of stone "lion-dog" statues at the front gate of Taipei's Yixian Elementary School that date back to the Japanese colonial era were allegedly destroyed by China Unification Promotion Party (CUPP) member Lee Cheng-lung (李承龍) and a woman identified as Chiu Chin-i (邱晉芛) on Sunday evening.
The pair used Facebook live to broadcast themselves breaking the legs of the statues with a hammer at about 8pm on Sunday, leading to their arrest before they left the scene.
The pair are also said to be responsible for the decapitation of a bronze statue of Japanese engineer Yoichi Hatta in Tainan's Yoichi Hatta Memorial Park in April.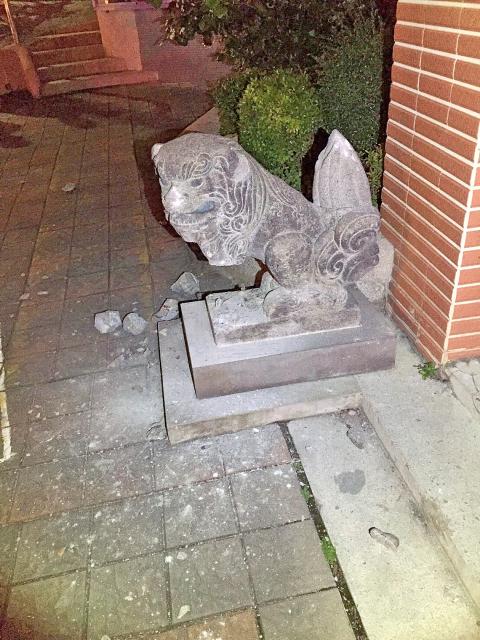 One of two stone century-old guardian "lion-dog" statues, whose feet were smashed by vandals on Sunday evening, is pictured yesterday outside Yixian Elementary School in Taipei's Beitou District.
Photo: CNA
The Taipei Department of Education yesterday said that although the two statues are not listed as protected historical sites, they have important historical value as they have been in place since the Japanese colonial era.
A subsidy was given to the elementary school in 2014 for cleaning and maintaining the statues, as well as for the repair of one of the statues' tails, the department said.
The city government strongly condemns the statues' destruction, which is not only an act of vandalism, but also an act of hatred intended to impose a particular ideology, the department said.
"This must be severely punished without tolerance," it said.
Asked to respond to the case, Taipei Mayor Ko Wen-je (柯文哲) said: "Taiwan is suffering suppression and disruption from the outside and from within, and we hardly have enough time for solidarity. I really hate it when people look for trouble and arouse hatred."
He said he used the city officials' Line group, a social media platform, this morning to comment on the case, saying: "This must be dealt with seriously."
Damaging historical relics to express anti-Japanese sentiment is an act that will "arouse anger in both people and in God," Democratic Progressive Party (DPP) Legislator Lin Chun-hsien (林俊憲) wrote on Facebook.
Lin said Lee and Chiu's irrational behavior in damaging historical artifacts would not be supported by the public.
Extremists such as Lee are notorious for their destruction of items related to the Japanese colonial period and their intention is to cause a rift in society, Lin said, adding that even if they are punished by the law, "the damaged relics are hard to recover and have been 'destroyed.'"
The Department of Education said it has established a special task force along with the city's Department of Cultural Affairs and the police to deal with the case, and has also instructed the elementary school to find experts to repair the statues.
The Shilin District Prosecutors' Office also released a statement saying that the pair's repeated offenses demonstrate a wanton disregard for the law.
The pair are being detained following their refusal to post bail, as well as out of concerns that they would not appear in court, it said.
Additional reporting by Huang Chieh
Comments will be moderated. Keep comments relevant to the article. Remarks containing abusive and obscene language, personal attacks of any kind or promotion will be removed and the user banned. Final decision will be at the discretion of the Taipei Times.