TRTC unveils a redesign plan for belt-shaped park
FIFTEEN MONTHS: A small park between Nanjing and Minsheng W roads is to be revamped, including links to two Taipei MRT stations, to encourage its use
Taipei Rapid Transit Corp (TRTC) yesterday unveiled its design for the belt-shaped park between Nanjing and Minsheng W roads and the Zhongshan and Shuanglian Mass Rapid Transit (MRT) stations, with Taipei Deputy Mayor Chen Chin-jun (陳景峻) saying he hoped the park's facelift would help it become a city landmark.
The redesign work is to be conducted in seven areas — on the ground level, a subsurface plaza facing the TRTC's premises and the MRT passenger platform levels — between this month and August, Chen told reporters.
The construction work will not affect the vast majority, 85 percent, of the underground Zhongshan Metro Mall, rebuffing the accusation from Taipei City Councilor Wang Shih-chien (王世堅), a Democratic Progressive Party (DPP) member, last year that the city government wanted to drive bookstores out of the mall in favor of a food court, Chen said.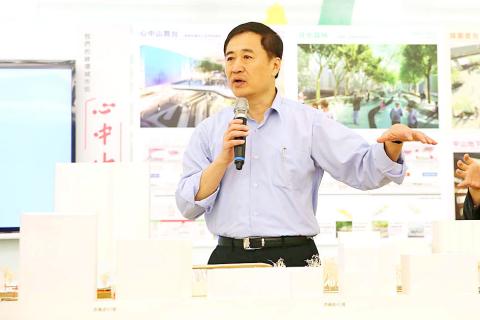 Taipei Deputy Mayor Chen Chin-jun yesterday speaks during a presentation of the redesign of a public park near the Zhongshan and Shuanglian Taipei Mass Rapid Transit stations.
Photo: CNA
If the project is successful, more will be initiated to beautify Taipei's cityscape, he said.
The project design leader, Angela Soong (宋鎮邁) — the daughter of People First Party Chairman James Soong (宋楚瑜) — said she hopes to make Taipei "cozier."
Explaining some of the designs she created for the 1.96-hectare park, Angela Soong said an elevated platform would be built above MRT Zhongshan Station Exit 4 to give visitors a better view of the area.
A stage for performances is to be erected at the exit, while playground equipment is to be placed at the end of the park near Minsheng W Road, she said.
Stairs leading to the elevated park are to be replaced by slopes to provide a barrier-free space and pavements that are uneven will be renewed, she said.
Project codesigner Kerby Chou (周書賢), who designed the plaza, said TRTC would take tenders from restaurants that want to operate at the plaza, which would attract more people to the bookstores in mall.
The floor tiles in an open space in the mall where high-school street dance clubs often practice are to be replaced with less slippery ones, he said.
Staircases leading to the indented plaza will also be expanded with platforms to provide space for food vendors, which is expected to be another drawing point, he said.
Angela Soong said she hopes the facelift will led to all the belt-shaped parks between the Taipei Expo Park and Taipei Railway Station undergoing the same kind of renovations to breathe new life into Taipei's public spaces.
The entire project is scheduled to be completed by August next year, TRTC officials said.
Comments will be moderated. Keep comments relevant to the article. Remarks containing abusive and obscene language, personal attacks of any kind or promotion will be removed and the user banned. Final decision will be at the discretion of the Taipei Times.