Ill-fitting attire hampered badminton champion Tai
GEAR GRIPES: Tai called for Taiwanese competitors to be able to wear clothing they are comfortable in, rather than wearing a uniform that does not belong to them
Despite securing her sixth badminton World Super Series title in Wuhan, China, on Sunday, Taiwanese player Tai Tzu-ying (戴資穎) yesterday said she did not enjoy the final game because she was struggling to play in an oversized shirt and ill-fitting pants.
"I was not enjoying the game because I had to roll up the sleeves on my shirt. I also had a hard time adjusting the pants. It hurt my tummy if I tied my pants up too tight, but they would fall down if they were too loose," Tai wrote on Facebook.
Tai said she was scheduled to leave for China on April 23, but she did not get her uniform until April 21, so she had little time to have the clothing adjusted.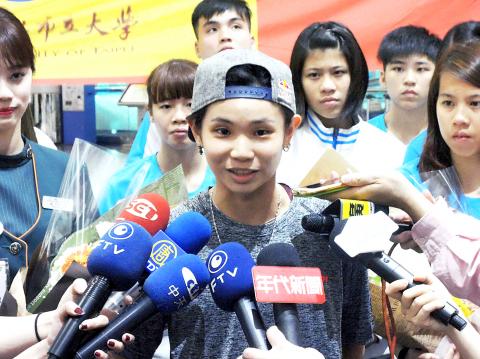 Taiwanese badminton player Tai Tzu-ying, center, speaks to journalists yesterday at Taoyuan International Airport following her sixth World Super Series win on Sunday.
Photo: CNA
Even though Tai would have been given the shirt in the size she requested, she said the clothing is almost always either too big or too small because different sportswear manufacturers use different templates.
She said she would sometimes ask for her uniform to be based on men's clothing sizes, but the outfits would be made based on women's sizes, which are too small for her.
"You never know the kind of uniform you are going to get and you have to try on the shirts and the pants to see if they actually fit. I felt like I had no time to adjust the uniform. Players from other countries can wear the sports gear that they like when they compete in the Asian Championships, World Championships and the Olympics. Our players would likely feel more comfortable if they could do the same, rather than getting used to playing in a uniform that does not belong to them," she said.
Tai said that she is scheduled to represent Taiwan in the Sudirman Cup later this month, which is a mixed team badminton championship.
She said she is only asking for a uniform that fits, adding that all Taiwanese players should be allowed to wear clothing that fits well.
This is not the first time Tai has had problems with her uniform for international games.
The Chinese Taipei Badminton Association was criticized after last year's Olympic Games in Rio de Janerio, Brazil, for threatening to fine Tai for not wearing the shoes provided by Yonex, the team's official sponsor.
The association congratulated Tai for being the first Taiwanese to win the Badminton Asia Championships title.
It also said that it has asked the uniform sponsor to make customized outfits for Tai, adding that the sponsor should deliver the national team uniforms to athletes as soon as possible so that they have time to get used to or change their uniform.
Comments will be moderated. Keep comments relevant to the article. Remarks containing abusive and obscene language, personal attacks of any kind or promotion will be removed and the user banned. Final decision will be at the discretion of the Taipei Times.