Put closing schools' assets in trust, group suggests
SCRUTINY: The Taiwan Higher Education Union voiced concern that dissolved schools might divert their funds or assets instead of giving teachers their severance pay
A Ministry of Education draft bill for transitioning and closing private universities lacks safeguards for disposing of school property, the Taiwan Higher Education Union said yesterday, calling for the assets of dissolved schools to be placed in a public higher-education trust.
Numerous private universities are expected to merge or fold in the near future due to declining student numbers, potentially paving the way for massive layoffs of university instructors.
"The ministry is basically giving schools a blank check on how they want to transition," union chairwoman Liu Mei-chun (劉梅君) said, blasting a ministry proposal to set aside NT$5 billion (US$165 million) in special subsidies for "transitioning" schools, while failing to earmark funds for severance pay.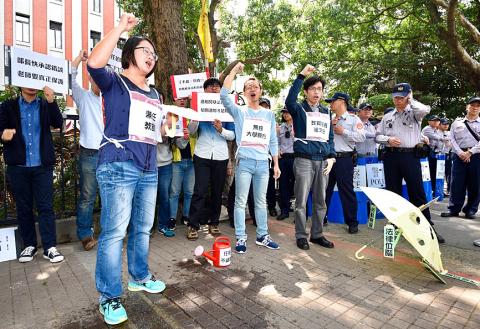 Taiwan Higher Education Union members hold a protest in front of the Legislative Yuan in Taipei on March 30, urging the Ministry of Education to apply the provisions of the Labor Standards Act to part-time university teachers.
Photo: Peter Lo, Taipei Times
"After the money is given to schools, it will just disappear, and teachers will only be able to get a hold of their share after long and arduous lawsuits," she said.
"The Ministry of Education is not willing to shoulder its responsibility to take over the management of struggling schools," said Su Tzu-hsuan (蘇子軒), the union's student action committee convener, questioning a ministry proposal to provide "guidance" to schools that fall behind in paying salaries, rather than filing court motions to replace their boards and take direct control.
"The 'professional guidance' proposal is a feint because only schools' founding capital and physical property would be put in trust during the guidance period," he said, citing bank accounts, special funds and investments of subsidiary organizations as examples of resources over which struggling school boards would retain direct control.
Rights campaigners have expressed concern that school boards might choose to divert school resources rather than pay teachers' benefits, with Alliance Against the Commercialization of Education member Hsieh Yi-hung (謝毅弘) saying that a survey by his group had found that the nation's 107 private universities have NT$14.5 billion in bank funds alone.
Su also criticized the ministry's removal of requirements that school closures be passed by an internal school advisory committee or a consensus after talks with teacher and student representatives.
While there are provisions requiring severance payments for laid-off teachers, there are no rules on how these should be paid out, effectively allowing schools to set the terms, he said.
Union executive secretary Chen Chiung-ting (陳炯廷) called for the property and capital of closed schools to be placed in a public fund, which can be used for improving student-teacher ratios, lowering tuition in the remaining schools and other objectives.
Comments will be moderated. Keep comments relevant to the article. Remarks containing abusive and obscene language, personal attacks of any kind or promotion will be removed and the user banned. Final decision will be at the discretion of the Taipei Times.