Cabinet's air pollution controls lack focus: groups
The Cabinet's planned measures to reduce air pollution lack focus and their goals have been "watered down," environmentalist groups said yesterday.
The Executive Yuan on Thursday announced plans to earmark NT$36.51 billion (US$ 1.2 billion) for 14 pollution control measures aimed at lowering levels of PM2.5 — fine particulate matter with a diameter of 2.5 micrometers or less — by 18 percent by 2019.
"The measures they have announced are far too simple," Taiwan Healthy Air Action Alliance convener Yeh Guang-peng (葉光芃) said.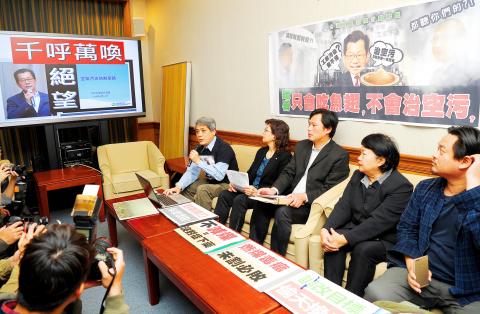 New Power Party Executive Chairman Huang Kuo-chang, third right, attends a news conference at the Legislative Yuan in Taipei yesterday.
Photo: CNA
Yeh compared the government's strategy to applying a "one size fits all" approach to emergency patients.
"With regard to air pollution there are two Taiwans, so you cannot use national average values to address the issue," he said, referring to the steep divide in air quality caused by the concentration of heavy industry in the nation's south.
Even within individual cities and counties, government goals were "watered down," as data from monitoring stations in national parks would be included in the averages, he said, adding that data from monitoring stations near traffic "hot spots" are excluded from the average.
The Cabinet's plans are misleading, because some of the measures, such as phasing out aging steam generators, were launched under the previous administration, Yeh said, adding that the measures focused too heavily on regulating "peripheral" pollution rather than directly taxing vehicle owners and polluting industries.
"If the government is serious about addressing pollution, it has to make the polluters bear the costs," he said, calling for direct taxes on Formosa Plastics Group's naphtha cracker plant in Yunlin County.
Vehicle owners should also be required to pay additional fees on heavy pollution days, he said.
"Premier Lin Chuan (林全) announcing the Cabinet's position would normally show political resolve in addressing the issue, but it is not enough, because they have yet to outline how they will incorporate our demands," Green Citizens' Action Alliance deputy secretary-general Hung Shen-han (洪申翰) said, calling on the government to hold consultations with environmental groups.
New Power Party (NPP) Executive Chairman Huang Kuo-chang (黃國昌) accused the Executive Yuan of failing to take a stance on the naphtha cracking plant and urged the Legislative Yuan's Social Welfare and Environmental Affairs Committee to review his party's proposed amendment to the Air Pollution Control Act (空氣污染防制法).
Comments will be moderated. Keep comments relevant to the article. Remarks containing abusive and obscene language, personal attacks of any kind or promotion will be removed and the user banned. Final decision will be at the discretion of the Taipei Times.