Hung Hsiu-chu denies leaking member details
Chinese Nationalist Party (KMT) Chairwoman Hung Hsiu-chu (洪秀柱) yesterday rebutted allegations that she leaked new KMT members' personal information to former vice president Wu Den-yih's (吳敦義) camp, adding that the party's headquarters is investigating the case.
Hung made the remarks while visiting a group of military veterans going by the self-chosen name of "800 Heroes" that have been camping outside the legislature to protest the government's pension reform plans since late February.
The original "800 Heroes" were a group of Chinese soldiers who defended a warehouse against Japanese troops during the 1937 Battle of Shanghai.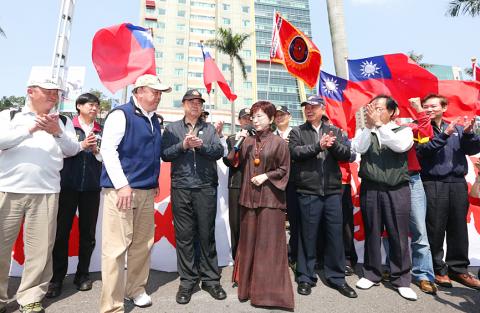 Chinese Nationalist Party (KMT) Chairwoman Hung Hsiu-chu, foreground right, speaks in support of veterans protesting the government's pension reform plans during a news conference outside the Legislative Yuan yesterday.
Photo: CNA
"If you want to punish someone, you can always find excuses," Hung said, responding to allegations that she has been playing a two-handed strategy by leaking party members' information to Wu's camp, only to then let the party's headquarters accuse Wu of foul play ahead of May 20's KMT chairperson election.
The party's headquarters has launched an investigation into the alleged leak and it plans to step up identity checks at each polling station across the nation on the election day to prevent people from voting using names of other, "dummy" party members, she said.
"KMT headquarters has given serious thoughts to every step in the electoral process, to ensure a fair, just and open election," Hung said.
Allegations of a leak of personal data stemmed from accusations made by one of KMT Vice Chairman Hau Lung-bin's (郝龍斌) campaign aides on March 23 that she received Wu's campaign mail just two months after having joined the party.
KMT headquarters did not provide all six chairperson candidates — Hung, Wu, Hau and three others — with a full list of party members until March 29.
The list is essential for each candidate as they are required to collect the signatures of at least 3 percent of KMT members before April 15 in order to make their candidacy official.
The race for the chairperson position has been marred by allegations that some candidates have sought to increase their electoral prospects by recruiting large numbers of dummy, or nominal, party members.
Those allegations got a new impetus earlier this week after statistics compiled by the party showed that the number of KMT members eligible to vote had increased to 451,510 from 226,783 in January.
Comments will be moderated. Keep comments relevant to the article. Remarks containing abusive and obscene language, personal attacks of any kind or promotion will be removed and the user banned. Final decision will be at the discretion of the Taipei Times.