Hi-tech surgery fixes sculptor's face
COMPUTER: Techniques allowed doctors to precisely reconstruct the patient's appearance, while in the past success was based on the skills of individual surgeons
A sculptor in his 50s whose cheekbone and eye socket were severely damaged in a motorcycle accident was able to return to work following reconstructive surgery that made use of a computer-assisted navigation system and 3D printing.
The artist, surnamed Peng (彭), crashed his motorcycle into the back of another vehicle, but did not seek immediate medical treatment, as he only noticed bruising, swelling and a feeling of numbness in his left cheek, doctors said, adding that he decided to apply ice and leave his injuries to heal on their own.
When the swelling subsided after about one month, Peng noticed that his face had become asymmetrical, with his left eye socket drooping, while his left cheek was still numb, doctors said.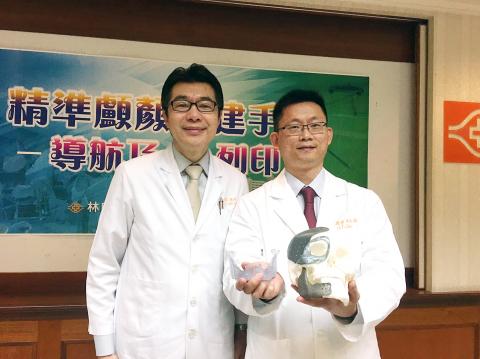 Liao Han-tsung, right, director of Linkou Chang Gung Memorial Hospital's plastic and reconstructive department in New Taipei City yesterday displays technology used in reconstructive surgery.
Photo: CNA
Peng also began to notice blurred vision when he was sculpting, so he finally went to Linkou Chang Gung Memorial Hospital in New Taipei City, almost three months after the accident, doctors said.
An examination revealed that he had a displaced fracture of his left cheek bone and an orbital blowout fracture which had caused his eyes to become misaligned, one of his surgeons, Liao Han-tsung (廖漢聰) said.
The optimum period for performing surgery on cheekbone or orbital fractures is two or three weeks after the injuries occur, but as Peng delayed treatment, the bones in his face had set in a new place, making resetting them in their original positions difficult, Liao said.
With the help of a computer-based navigation system and 3D printing, doctors were able to construct a precise 3D model of the original bones and during surgery were able to avoid damaging sensitive organs or the optic nerves, which could have caused blindness, Liao said.
In addition, the technology allowed them to precisely reconstruct the patient's appearance, he said, adding that in the past, the success of such efforts were hit and miss and depended on the surgeon's ability.
The hospital has used the technology to help reconstruct the skulls or faces of about 150 patients, all of whom have been satisfied with the results, Liao said.
Comments will be moderated. Keep comments relevant to the article. Remarks containing abusive and obscene language, personal attacks of any kind or promotion will be removed and the user banned. Final decision will be at the discretion of the Taipei Times.