Migrants welcomed by renovated garden and murals
Hsinchu Association for New Immigrant Culture and Folk Arts chairwoman Feng Mei-jung (范美蓉) recently renovated her garden as a gathering place for association members in an effort to make new immigrants feel more at home.
Feng, a Vietnamese immigrant who resides in Hsinchu County, immigrated to Taiwan 20 years ago following her marriage to a Taiwanese man, she said.
Her residence in Jhubei City (竹北) has served as a second home for new immigrants for many years, and its lotus garden is admired by her friends and association members, Feng said.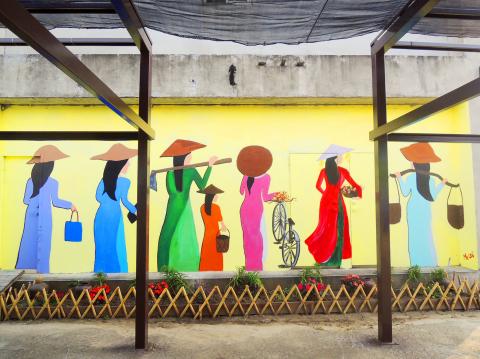 A mural painted by Vietnamese immigrant Feng Mei-jung is pictured on Wednesday at her residence in Jhubei City, Hsinchu County, which serves as a gathering place for new immigrants.
Photo: Liao Hsueh-ju, Taipei Times
However, part of the garden was appropriated by the local government for a road, causing a loss of space and the beloved pond, she said.
Motivated to restore the garden as a meeting place for the association, she enrolled in a community planning program with the Hsinchu Department of Transportation and Tourism, Feng said.
After completing her training, she remodeled her garden with the help of several fellow community planners, visual design students at the China University of Technology and a government subsidy, Feng said.
Images of the lotus pond, various national flags and landmarks, such as Taipei 101, Malaysia's Petronas Towers and Thailand's Wat Arum, are displayed on the walls, as well as depictions of immigrant women working in a variety of professions.
The mural is meant to express new immigrants' aspirations and make them feel welcome at her home, Feng said, adding that she plans to use the newly built garden trellis as a pavilion for gatherings.
The association also lobbied National Open University to start classes for new immigrants at the China University of Technology's Hsinchu campus, Feng said, calling on immigrants with an interest in obtaining professional skills or advancing their education to apply.
Comments will be moderated. Keep comments relevant to the article. Remarks containing abusive and obscene language, personal attacks of any kind or promotion will be removed and the user banned. Final decision will be at the discretion of the Taipei Times.