Lawmakers clash over China rules
SUPERVISORY ARTICLES: A DPP legislator said that a review of the articles is not urgent, because Beijing has refused to negotiate with Tsai Ing-wen's administration
Lawmakers yesterday clashed over supervisory articles governing negotiations with China during a question-and-answer session with Mainland Affairs Council (MAC) Minister Katharine Chang (張小月) at the legislature's Internal Administration Committee.
"I feel that the Democratic Progressive Party [DPP] is not taking a sincere swing at this issue," said Chinese Nationalist Party (KMT) Legislator William Tseng (曾銘宗), who, as committee coconvener, has scheduled a review of draft bills to begin tomorrow.
The MAC's and the DPP caucus' positions on the urgency of the review are contradictory, he said, questioning whether the council and the caucus were playing "good cop, bad cop" on the issue.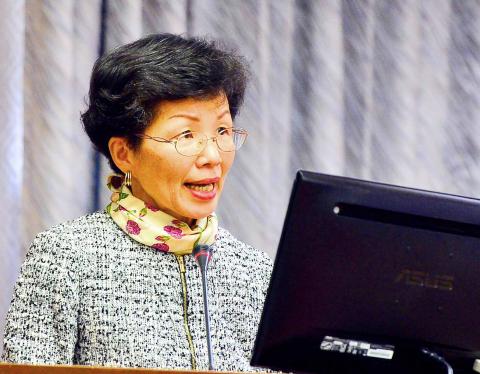 Mainland Affairs Council Minister Katharine Chang speaks during a question-and-answer session at the legislature's Internal Administration Committee in Taipei yesterday.
Photo: Wang Yi-sung, Taipei Times
"Even though the council says it attaches great importance to the issue, you have unbelievably refused to put forth your own version of the articles," he said. "Your own draft version of the articles is supposed to stake out your position, strategy and policy direction, but you have not done any of this. Is that not strange?"
"I do not see the council taking any real action, other than coming here to read from a script," KMT Legislator Huang Chao-shun (黃昭順) said.
Rebutting the allegations, Chang said: "I take a different view because we have consistently maintained that we hope the legislature can pass supervisory articles guaranteeing openness, transparency and civic participation."
"We will not present our own version because we support the DPP caucus' version," she said, adding it would be inappropriate for the council to present a draft on how the legislature should supervise negotiations conducted by the council.
"As an executive body, all we would end up doing is insisting on our administrative autonomy, while the legislature is concerned with its right to supervise," she said.
"At this stage, the supervisory articles are not an urgent issue, because of the overall state of cross-strait relations," said DPP Legislator Pasuya Yao (姚文智), who serves as the committee's DPP coconvener.
"It is not that the council does not want to hold discussions or that the DPP does not want to hold a review, but the reality is that it is going to be a while before this kind of law would actually be put to use," he said.
The trade in services agreement has been shelved due to domestic controversy and there is little space for renegotiation because China has refused to contact President Tsai Ing-wen's (蔡英文) administration, he said.
Passage of supervisory articles was a key demand of the Sunflower movement, which saw student activists occupy the legislature in 2014 to protest the agreement negotiated by the then-KMT government.
Comments will be moderated. Keep comments relevant to the article. Remarks containing abusive and obscene language, personal attacks of any kind or promotion will be removed and the user banned. Final decision will be at the discretion of the Taipei Times.