Ma Ying-jeou defends legacy, attacks KMT leadership
Former president Ma Ying-jeou (馬英九) yesterday hurled insults at KMT Chairwoman Hung Hsiu-chu's (洪秀柱) team and cross-strait policy platform at a solidarity rally held for Chinese Nationalist Party (KMT) chairperson candidate Wu Den-yih's (吳敦義) campaign.
Ma took aim at a recent controversy, when it was revealed that "dummy members," had been signed to the party en masse, saying that the practice "used to be the Democratic Progressive Party's trick, not the KMT's."
Addressing accusations that members with organized crime backgrounds joined the party, Ma said the reports have had a terrible effect on the party, and such "pests" must be eradicated for the KMT to regain its "sunshine image."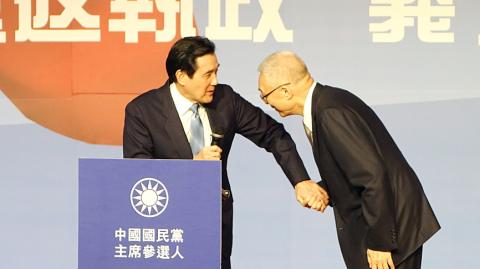 Former president Ma Ying-jeou and former vice president Wu Den-yih shake hands at a rally in support of Wu's bid for the Chinese Nationalist Party (KMT) leadership in Taipei yesterday.
Photo: George Tsorng, Taipei Times
The KMT has "a clear understanding of right and wrong, upholds morality and takes its connections with party members seriously, characteristics that have arisen from the party's 100-year history," he said.
"However, there are some party comrades that have been ranting at their own brethren; there are even reports alleging that certain party members plan to launch a political vendetta against me, accusing me of being to blame for devastating the party and the nation," Ma said.
One of the "comrades" Ma was referring to is understood to be KMT Central Policy Committee director Alex Tsai (蔡正元), who has been involved in a series of heated spats and exchanges with Ma's office, the most recent regarding Ma's acknowledgment that Chiang Kai-shek (蔣介石) should be held accountable for the 228 Incident.
Tsai responded that then-Taiwan governor Chen Yi (陳儀), who ordered police and military action against protesters, was less corrupt than Ma.
The vendetta that Ma mentioned is believed to relate to forums organized by Chang Ya-chung (張亞中), a close aide of Hung's and the principal of the "Sun Yat-sen School" set up by Hung.
The school, launched at the beginning of this month, was said to be "for the appraisal of past KMT leaders and their achievements and misdeeds."
The school evaluated former presidents Chiang Kai-shek on March 2, Chiang Ching-kuo (蔣經國) on March 9 and Lee Teng-hui (李登輝) on Thursday.
Ma is scheduled to be discussed on Thursday next week.
Ma also repeated that the so-called "1992" consensus has benefited Taiwan greatly and was "not a 'consensus' between the KMT and the Chinese Communist Party, but one reached, under the direction of former president Lee Teng-hui, between Taiwan's Mainland Affairs Council and China's Association for Relations Across the Taiwan Straits."
"One China, different interpretations" has garnered a high level of support, he said, adding that it should not be "arbitrarily overlooked, revised or abolished."
"It should not be changed to [Hung's] 'one China, same interpretation,' which has left many of our supporters disconcerted," Ma said.
The "1992 consensus" refers to a supposed understanding reached during the cross-strait talks in 1992 that both Taiwan and China acknowledge that there is "one China," with each side having its own interpretation of what that means.
In 2006 former Mainland Affairs Council minister Su Chi (蘇起) admitted he made up the term in 2000, before the KMT handed power to the Democratic Progressive Party.
Comments will be moderated. Keep comments relevant to the article. Remarks containing abusive and obscene language, personal attacks of any kind or promotion will be removed and the user banned. Final decision will be at the discretion of the Taipei Times.