Ministry sets up integrity office to collect big data
ETHICAL STANDARDS: The office is to create a database of different types of breaches of academic integrity to serve as a reference for case reviews, the ministry said
The Ministry of Science and Technology yesterday announced the establishment of an Office of Research Integrity to collect big data and provide a reference for future academic studies.
The office will not deal with the National Taiwan University (NTU) scandal alleging academic fraud, the ministry said.
Minister of Science and Technology Chen Liang-gee (陳良基) unveiled a sign and announced the launch of the office, which was based on the US' Office of Research Integrity, with the expectation that researchers conduct themselves with integrity and conform to academic ethical standards.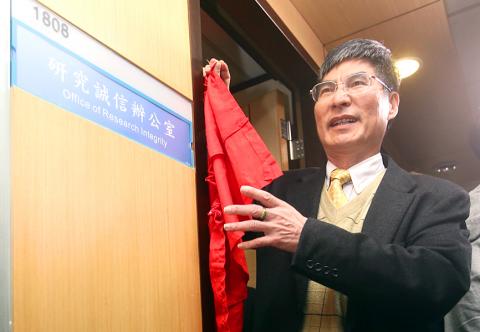 Minister of Science and Technology Chen Liang-gee unveils the signboard of the ministry's new Office of Research Integrity in Taipei yesterday.
Photo: CNA
"The office is to collect information on research integrity from other countries, including case scenarios and treatment solutions, and publicize them for research project heads," Chen said.
The office is to create a database of different types of breaches of academic integrity to serve as a reference for case reviews, Chen said, adding that he hoped the office could help academia return to its original function — seeking the truth.
NTU president Yang Pan-chyr (楊泮池) is under investigation as the coauthor of several scientific papers containing allegedly fabricated results.
"I feel deeply distressed," Chen said about the scandal, which was exposed at the end of last year.
An academic ethics review committee is investigating Yang and is expected to announce the results in a couple of weeks, Chen said.
The new office will not interfere with review, but will include the case into its database for reference, he added.
Chen spoke about the two main issues the office is taking on, including actively dealing with cases and changing the academic research environment to establish better ethical standards, as well as cultivating internationally competitive research personnel and attracting top talent from other countries.
Chen has proposed sending at least 50 Taiwanese with doctorate degrees to established companies or start-ups in Silicon Valley that have already agreed to recruit more than 50 people.
The ministry also plans to invite senior researcher abroad to hold short-term courses in Taiwan.
The ministry proposed an investment of NT$5 billion (US$162 million) in artificial intelligence, as well as establishing a scalable high-performance computing platform, international innovation and research center, and three to four mass artificial intelligence research bases.
Comments will be moderated. Keep comments relevant to the article. Remarks containing abusive and obscene language, personal attacks of any kind or promotion will be removed and the user banned. Final decision will be at the discretion of the Taipei Times.