KMT decries 'death' of nation's constitutional system
The Chinese Nationalist Party (KMT) caucus yesterday lamented what it called "the death" of the nation's constitutional system, which it ascribed to the Taipei District Prosecutors' Office's decision to indict former president Ma Ying-jeou (馬英九).
Speaking at a news conference in Taipei, KMT caucus convener Sufin Siluko (廖國棟) said that as the Classified National Security Information Protection Act (國家機密保護法) entitles the president to declassify information, Ma's handling of confidential information regarding a wiretapping case should not have been deemed illegal.
Sufin was referring to Article 7 of the act, which stipulates that the president, premier and ministers authorized by them are allowed to classify information top secret, as well as Article 28, which stipulates that classified information may be declassified by the official who authorized the original classification, or their superior official.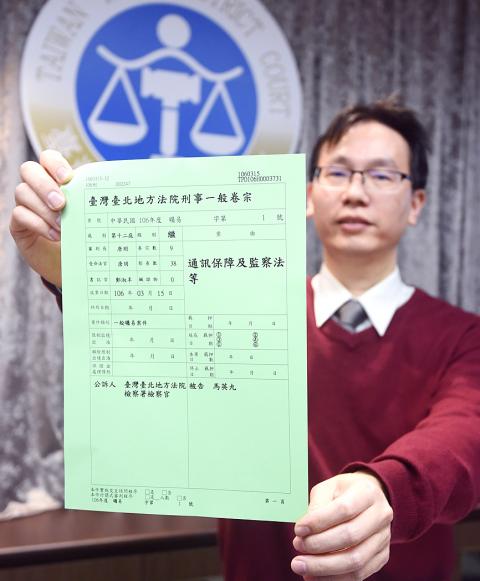 Taipei District Court Presiding Judge Liao Chien-yu yesterday announces that the criminal case against former president Ma Ying-jeou is to be handled by Judge Tang Yueh.
Photo: Liao chen-huei, Taipei Times
Ma on Tuesday was indicted on charges of leaking classified information and abuse of authority.
He is accused of divulging details to two government officials of wiretapped telephone conversations between then-legislative speaker Wang Jin-pyng (王金平) and Democratic Progressive Party (DPP) caucus whip Ker Chien-ming (柯建銘) during a then-ongoing investigation into alleged improper lobbying in 2013.
It is preposterous that the people who sought to damage judicial justice by engaging in improper political lobbying got off scot-free, while the person who tried to deal with wrongdoings is facing indictment, KMT Legislator Alicia Wang (王育敏) said.
"I solemnly urge the judicial system to refrain from playing politics," she said.
The DPP has been interfering with the judicial system since former Presidential Office secretary-general Chen Shih-meng (陳師孟) on March 5 accused the judiciary of targeting only the pan-green camp, KMT Legislator Lai Shyh-bao (賴士葆) said
Chen also vowed to redress the what he described as the procedural injustice experienced by former president Chen Shui-bian (陳水扁), who was found guilty of corruption and related charges and served more than six years of his 20-year prison term before his release on medical parole in January 2015.
"Shortly after that, the Supreme Administrative Court on Friday last week ruled against the KMT in a fund-freezing case. The verdict was followed by Ma's indictment on Tuesday," Lai said, adding that Chen Shih-meng's remarks have apparently had a chilling effect.
In related news, the Taipei District Court yesterday made public the computer-generated random number draw that decided which judge would review Ma's case.
The judge picked, Tang Yueh (唐玥) oversaw a case involving the beating death of a police detective a Taipei nightclub in 2014.
Additional Reporting by Chang Wen-chuan
Comments will be moderated. Keep comments relevant to the article. Remarks containing abusive and obscene language, personal attacks of any kind or promotion will be removed and the user banned. Final decision will be at the discretion of the Taipei Times.