Same-sex marriage suit criticized
UNCONSTITUTIONAL? Chi Chia-wei's suit claims that the prohibition against same-sex marriage violates the rights guaranteed in the Constitution by articles 7 and 22
Religious organizations rallied outside the Judicial Yuan on Thursday, protesting against same-sex marriage and delivering a petition calling on the Council of Grand Justices to not be influenced by political considerations.
The rally was organized by the Alliance of Taiwan Religious Groups for the Protection of the Family and drew representatives from Buddhist, Taoist, Christian and Lamaist groups.
The grand justices are to convene a hearing on March 24 to hear arguments in a suit brought by gay rights advocate Chi Chia-wei (祁家威), who argues that the prohibition against same-sex marriage violates the rights guaranteed in the Constitution by Article 7, which declares that all citizens, irrespective of sex, religion, ethnic origin, class or party affiliation, to be equal before the law, and Article 22, which states that all other freedoms and rights of the public that are not detrimental to social order or public welfare are guaranteed under the Constitution.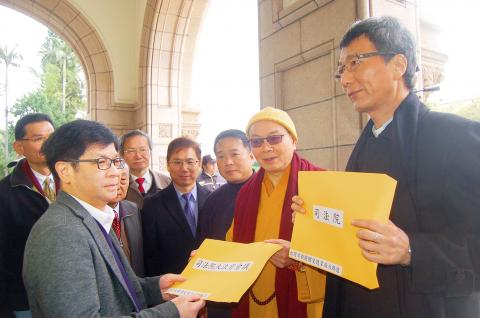 Lin Chi-hui, left, deputy chief of the Judicial Yuan's Grand Justices Clerks' Section, receives a petition against same-sex marriage from representatives of the Alliance of Taiwan Religious Groups for the Protection of the Family at the Judicial Yuan in Taipei on Thursday.
Photo: Yang Kuo-wen, Taipei Times
"We ask that the grand justices carry out an independent inquiry, while not forgetting their conscience and morality," alliance secretary-general Chang Shou-yi (張守一) said.
"They should conduct the hearing with objectivity and impartiality, looking into all aspects of the issue," Chang said.
He said that "political leaders have already decided the outcome they want" and will use their influence to determine the outcome.
"We urge people to closely scrutinize this case," Chang said. "The constitutional interpretation must not deviate from issues of morality, common sense and the laws of nature."
"Government leaders must not use the constitutional interpretation as a tool to suppress the will of the people and they shall bear political responsibility for judgements that lead to societal conflict," he said.
President Tsai Ing-wen (蔡英文) has been pushing for approval of same-sex marriage and promoting rights for homosexuals, "because she made political promises to them," Chang said, urging the grand justices not to rush to a decision.
Chang urged the council not to exceed its legal authority, as the constitutional challenge is only over "whether same-sex marriage violates the Constitution."
The council should conduct more hearings to carefully deliberate the case, listen to counterarguments and viewpoints from all sides, he said.
The protesters presented a petition to Lin Chi-hui (林吉輝), deputy chief of the Judicial Yuan's Grand Justices Clerks' Section.
Comments will be moderated. Keep comments relevant to the article. Remarks containing abusive and obscene language, personal attacks of any kind or promotion will be removed and the user banned. Final decision will be at the discretion of the Taipei Times.