Saint Lucia relationship 'under control': minister
Deputy Minister of Foreign Affairs Javier Hou (侯清山) yesterday denied that there are any diplomatic issues with Saint Lucia, after Minister of Foreign Affairs David Lee (李大維) on Monday told lawmakers that relations with one or more of the nation's diplomatic allies in the Caribbean are "kind of unstable."
Diplomatic relations with Caribbean nations are somewhat unstable, Lee said, but added "they are still under control."
It has been speculated that Saint Lucia — one of Taiwan's 12 diplomatic allies in Central and South America and the Caribbean Community — might be the nation in question, as Taiwan's ambassador to Saint Lucia has recently been replaced, Chinese Nationalist Party (KMT) Legislator Jason Hsu (許毓仁) told the media on Monday.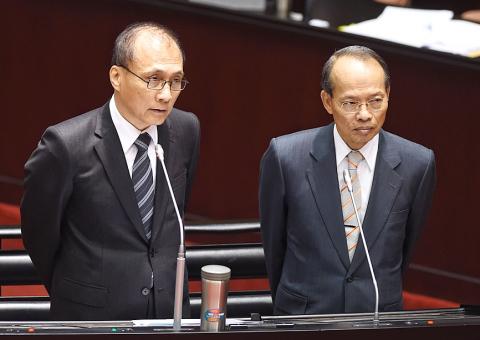 Premier Lin Chuan, left, and Deputy Minister of Foreign Affairs Javier Hou answer lawmakers' questions at the Legislative Yuan in Taipei yesterday.
Photo: Liu Hsin-de, Taipei Times
Hou denied that the situation was unstable.
The new ambassador to Saint Lucia, Shen Cheng-tsung (沈正宗), former director of the Taipei Economic and Cultural Office in Sydney, yesterday arrived in Saint Lucia, Hou said, adding that replacement was part of the ministry's routine rotation.
"[Shen] will be meeting with the country's governor-general on Thursday," the deputy minister said, adding that Taiwan has been attending meetings concerning cooperation on development projects in Saint Lucia.
"[The situation] is unstable because China has been 'setting fires' in the region," he added.
Democratic Progressive Party Legislator Wang Ding-yu (王定宇) said China has always been "setting fires" to Taiwan's foreign ties and asked why Saint Lucia has been targeted.
Beijing is "making movesm, particularly in the Caribbean region," Hou said.
Ministry spokesperson Eleanor Wang (王珮玲) said that Taiwan and Saint Lucia have had good relations since the two nations resumed diplomatic ties in 2007.
Former ambassador to Saint Lucia Ray Mou (牟華瑋) was not "replaced," but "reassigned" to head the Taiwan Commercial Representative Office in the State of Kuwait after a year-and-a-half in Saint Lucia.
Separately yesterday, Mainland Affairs Council Minister Katharine Chang (張小月) criticized China's Taiwan Affairs Office (TAO) Minister Zhang Zhijun (張志軍), who said that "the end of Taiwanese independence will be unification," which would be "costly."
"Verbal and military threats are of no help to a stable cross-strait relationship and only alienate and antagonize Taiwanese," she said, calling on Beijing to assume a pragmatic and rational attitude when dealing with cross-strait issues.
President Tsai Ing-wen (蔡英文) has been "giving a lot explanations about how [she would maintain a stable cross-strait relationship], so we are hoping to continue accumulating mutual goodwill based on this foundation," Premier Lin Chuan (林全) said.
"There is no need to make unnecessary guesses or remarks," Lin added.
During a legislative question-and-answer session, Chang called Zhang's remarks "inappropriate" for a TAO minister.
However, she added that since assuming office, she has not had the chance to speak with Zhang directly.
Additional Reporting by Lu Yi-hsuan
Comments will be moderated. Keep comments relevant to the article. Remarks containing abusive and obscene language, personal attacks of any kind or promotion will be removed and the user banned. Final decision will be at the discretion of the Taipei Times.