Man aims to rekindle water-buffalo use
A chance introduction to organic farming that brought Kao Yi-hsin (高一鑫) face to face with draft water buffaloes — used to pull heavy loads — impressed him so much that the 34-year-old is now promoting the practice of plowing fields using the animals instead of machines.
Kao said he moved to Changhua County's Sijhou Township (溪州) last year to attend the Water Buffalo School, founded by Lee Chun-hsin (李春信), and was given a water buffalo by a local farmer named Hsu Jung (許榮), which he named Lala (拉拉).
Kao began working at the Sijhou Shangshui Eco-friendly Farming organization as a warehouse manager and used his spare time to take Lala to plow fields.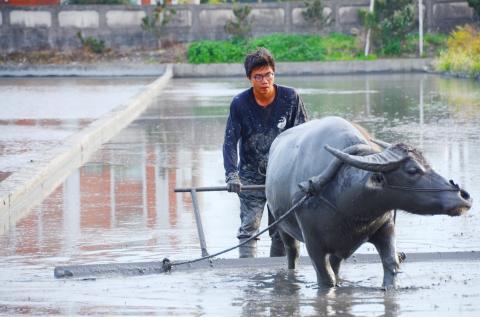 Kao Yi-hsin plows a field with a water buffalo in Changhua County's Sijhou Township on Feb. 27.
Photo: Yen Hung-chun, Taipei Times
The price to hire a tractor-pulled plow is NT$2,500 (US$81) per fen (about 977m2) of land, but he charged from NT$250 to NT$500 for plowing the same area, Kao said.
Using a water buffalo to plow fields means putting up with the weather and negotiating the animal's temperament, Kao said, adding that sometimes he earned less than NT$250 per hour.
However, he took on the work not to make money, but to train Lala, he said.
A water buffalo is a partner, not a tool to make money, Kao said, adding that if an animal is treated well and talked to regularly then it reciprocates by offering its loyalty.
There is a lot to learn about water buffalo, as the animals can come down with colds or suffer from heatstroke, and there are certain types of herbal remedies that only the older generation know about, he said.
If the use of the animals died out in Taiwan, the nation would be losing a cultural asset, Kao said.
Kao said he is saving money to tour Taiwan and promote such practices, once Lala is more accustomed to plowing fields.
Kao said he was very lucky to find Sijhou, where local farmers were willing to give him a chance, adding that they not only asked him to help, but also taught him how to better control a water buffalo.
Sijhou Township Office Secretary-General Wu Yin-ning (吳音寧) said Kao's willingness to promote the culture of plowing farmland with water buffalo should be welcomed by the public.
In a 2015 report in the Chinese-language United Daily News, Tainan official Chou Chih-hsun (周志勳) was quoted as saying that Tainan had 273 draft water buffaloes in 2009, but the number had dropped to 99 in 2015.
There were 19 water buffaloes in Yunlin County, the majority of which were at least 15 years old, Chou said, adding that while Pingtung County still had 236 of the animals, most of them were not used for plowing.
Comments will be moderated. Keep comments relevant to the article. Remarks containing abusive and obscene language, personal attacks of any kind or promotion will be removed and the user banned. Final decision will be at the discretion of the Taipei Times.