Chinese naval vessels sail through the Taiwan Strait
The Ministry of National Defense (MND) yesterday said that a flotilla of Chinese military vessels had passed through the Taiwan Strait earlier in the day, heading southward along China's east coast, after conducting a military exercise near the Japanese island of Miyakojima.
A destroyer, a supply ship and an escort vessel from China's South China Sea fleet passed through the Miyako Strait — which lies between Miyakojima and Okinawa — into the Taiwan Strait, the ministry said.
The flotilla was traveling west of the median line in the Taiwan Strait and was expected to leave Taiwan's air defense identification zone by last night, the ministry said, adding that it was closely following the ships' movement.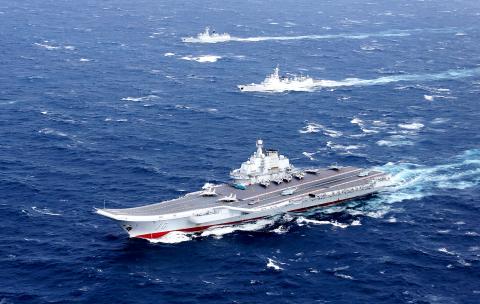 China's aircraft carrier the Liaoning and two escort vessels conduct a drill in the South China Sea in an undated photo taken in December last year.
Photo: Reuters
The three vessels were returning from an annual naval and air exercise that was conducted on Thursday in an area southeast of Miyakojima, which is about 300km east of Taiwan, the ministry said.
The exercise included drills involving fighter aircraft, early warning and air surveillance aircraft and Xian H-6 bombers, the ministry said.
It said there was no imminent threat to Taiwan, but the nation would continue to keep a close eye on China's military actions and it is prepared to respond if necessary.
In December last year, China's first aircraft carrier, the Liaoning, and a flotilla of escort vessels sailed close to Taiwan's east coast on its way to the South China Sea to conduct training exercises.
On the return leg in January, the flotilla entered Taiwan's air defense identification zone from the southwest and remained west of the median line of the Taiwan Strait, sailing north to its base in northeastern China.
In response to reporters' queries, Taiwanese military expert Erich Shih (施孝瑋) said it was difficult to determine whether the aim was to intimidate Taiwan.
China was more likely was trying to gain maritime navigation experience with its military vessels, he said, adding that the targets of the exercises could also have been Japanese or US military bases in the region.
Comments will be moderated. Keep comments relevant to the article. Remarks containing abusive and obscene language, personal attacks of any kind or promotion will be removed and the user banned. Final decision will be at the discretion of the Taipei Times.