Spat between KMT's Tsai and ex-president escalates
A spat between Chinese Nationalist Party (KMT) Central Policy Committee director Alex Tsai (蔡正元) and former president Ma Ying-jeou's (馬英九) office entered day three yesterday after Tsai criticized Ma for comments about the 228 Incident.
Responding to calls to punish those responsible for the deaths of tens of thousands of people during the White Terror era following the 228 Incident, Ma on Monday said at an event marking the 70th anniversary of the Incident that because Chiang Kai-shek (蔣介石) was president at the time, he "should naturally be held accountable."
The extent of Chiang's responsibility was up to people to determine for themselves by studying public information, Ma said.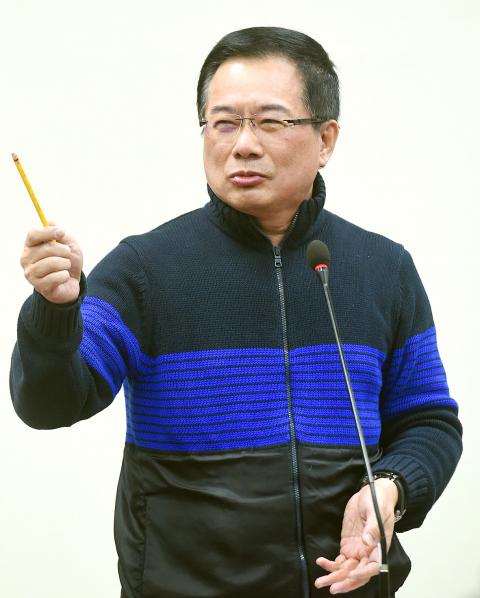 Chinese Nationalist Party (KMT) Central Policy Committee Director Alex Tsai speaks at a party meeting in Taipei on Wednesday.
Photo: Liao Chen-huei, Taipei Times
Tsai on Monday said that Ma is not in a position to assign responsibility for the 228 Incident, because he enjoyed "eight years of wealth and rank."
"Ma's small disciples" should be reminded that then-governor-general Chen Yi (陳儀), who ordered police and military action against protesters during the 288 Incident, was less corrupt than Ma, Tsai said, without saying who the "disciples" were.
Ma office spokeswoman Hsu Chiao-hsin (徐巧芯) on Thursday said Tsai was not as righteous as his comments made him appear to be, citing a ruling that found Tsai had taken shares from Central Motion Picture Corp and registered them in his own name.
Tsai lost an appeal to overturn the ruling and in May last year was ordered to pay the corporation NT$170 million (US$5.48 million).
"If you want to talk about who is most harmful to the KMT, nobody can compete with Alex Tsai," Hsu said.
She said Tsai was harming camaraderie among party members by making unsubstantiated attacks on former party chairpersons.
"Could it be that party headquarters is going to let its officials continue to run amok?" Hsu asked, adding that if KMT Chairwoman Hung Hsiu-chu (洪秀柱) continues to indulge Tsai, it would be detrimental to the party caucus and negatively affect preparations for the May 20 party chairperson election.
Tsai said he is open to discuss his dealings with Central Motion Picture.
"However, you [Hsu] have to remember that at the end of the war, the one who would be most injured would not be Alex Tsai, but 'he who is the greatest' in your heart," Tsai said, an apparent reference to Ma.
Tsai said that he was going to write a memoir about the Central Motion Picture case when he was much older, as well as a story about Somali pirates, "because both incidents involve 'the greatest,' but if you [Hsu] want to extend the war to infinity, I am ready," Tsai said.
Comments will be moderated. Keep comments relevant to the article. Remarks containing abusive and obscene language, personal attacks of any kind or promotion will be removed and the user banned. Final decision will be at the discretion of the Taipei Times.