MOJ mulls tougher anti-drug efforts
A rise in drug-related crime has led the Ministry of Justice (MOJ) to mull legal changes that would require hospitality, service and entertainment businesses to report any illegal substance abuse on their premises, Minister of Justice Chiu Tai-san (邱太三) told lawmakers yesterday.
Chiu told a meeting of the legislature's Judiciary and Organic Laws and Statutes Committee that he hoped a bill to amend the Narcotics Hazard Prevention Act (毒品危害防制條例) could be submitted and passed by the legislature next month, with new measures to combat drug abuse implemented by the end of the year.
Under the mooted amendment, "designated business sectors" would be required to place notices at their entrances warning against illegal drugs, post security staff at entrances, provide a list of staff on duty, and allocate responsibility for reporting drug use or other illegal activities to the police, Chiu said.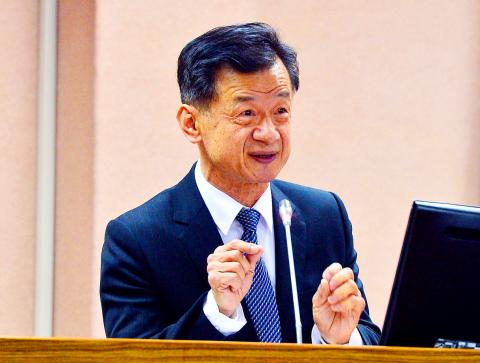 Minister of Justice Chiu Tai-san yesterday replies to a query from a lawmaker during a question-and-answer session at the Legislative Yuan in Taipei.
Photo: Wang Yi-sung, Taipei Times
The "designated sectors" would include entertainment venues and specific hospitality businesses such as karaoke bars, KTV lounges, dance halls, nightclubs and pubs, saunas, barbershops that offer body massages, coffee and tea shops that offer special services, as well as hotels, he said.
Chiu made the comments in response to questions by Democratic Progressive Party Legislator Yeh Yi-jin (葉宜津) about the death of a young woman's at a party in a VIP suite at the W Hotel in Taipei, where illegal drug use has been alleged.
"Once the amendment has been passed, if a business' management does not report illegal drug use on their premises, then they can face legal punishment, including revocation of their operating license," the minister said.
Yeh said she received reports from the public that narcotics abuse and related crimes has worsened in recent years, and it is now affecting young people, including students.
"The ministry and law enforcement agencies have not done enough to combat illegal drug use and now we are facing even bigger problems with new synthetic drugs made by lab technicians and packaged into powder mixtures. These look like coffee powder packages and are being sold at nightclubs, and consumed at drug parties," Yeh said.
"We urge the authorities to crack down on narcotics and new forms of synthetic drugs to restore public order and safety," she said.
Chinese Nationalist Party (KMT) caucus convener Sufin Siluko (廖國棟) asked Chiu about efforts to curb drug abuse, and medical treatment and rehabilitation available for drug users.
It is difficult to treat drug addicts, who often relapse, because the narcotics cause the brain to release endorphin and other pleasure stimulants, providing a euphoric "high" and so the person becomes addicted and needs ever increasing "highs," he said.
"If the pleasure achieved during sexual orgasm rates 10 points, then the high reached by narcotics could rate 100," Sufin said.
"Have you ever experienced an orgasm," he asked the minister.
An embarrassed Chiu did not reply, appearing puzzled by the KMT lawmaker's logic — as were several members of the audience in the committee room.
Afterwards, Chiu said he was stumped, and had not been prepared for such direct questioning.
"However, it is understandable that a high from narcotics use is rated 10 times more than the pleasure from a sexual climax, as there have been research studies by the medical community," he said.
Sufin was trying to put the problem in focus, Chiu said, adding: "Just increasing the punishments will not stop the drug problem. We have to treat the root cause of illegal drugs and deal with drug abuse by considering all the contributing factors."
Comments will be moderated. Keep comments relevant to the article. Remarks containing abusive and obscene language, personal attacks of any kind or promotion will be removed and the user banned. Final decision will be at the discretion of the Taipei Times.