228: PAST AND PRESENT: Feature: Victims demand justice 70 years after massacre
For Pan Hsin-hsing (潘信行) the sight and smell of lilies held a particular horror for many years — the pungent flowers decorated the room where his executed father lay before the funeral.
He was just six years old when Pan Mu-chih (潘木枝), a doctor and city councilor, was arrested, tortured and killed in a 1947 massacre that was the precursor to years of political purges in Taiwan, known as the White Terror era.
A last note from his father was scribbled on a cigarette pack given to him by a sympathetic jailer and smuggled out to the family.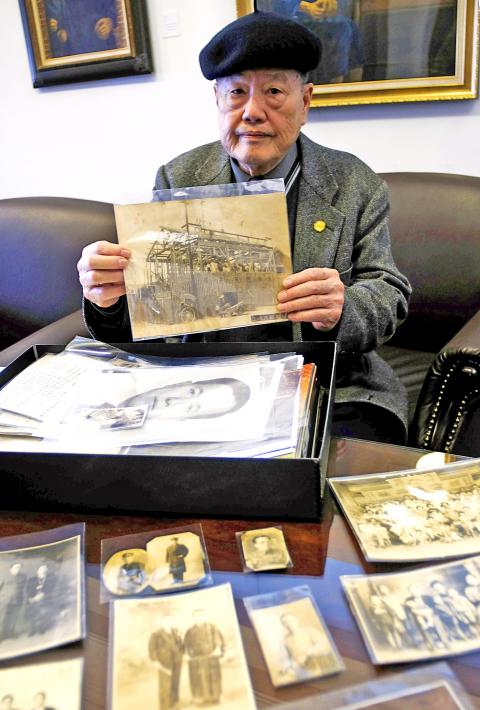 Pan Hsin-hsing, the son of Pan Mu-chih, a doctor and city councilor who was killed in the 228 Massacre, displays pictures of his family during an interview in Taipei on Feb. 8.
Photo: Sam Yeh, AFP
"Don't be sad, I die for the residents of our city. I die with no regret," it read.
Pan Mu-chih was a critic of the Chinese Nationalist Party (KMT) government and was killed by a firing squad alongside other local politicians in Chiayi, where there were anti-government riots.
Those riots were part of civilian unrest that started on Feb. 27, 1947, after an inspector beat a woman selling untaxed cigarettes in Taipei. The immediate crackdown on protesters is estimated to have killed up to 30,000 people.
Pan Hsin-hsing also lost his 15-year-old brother, who was shot after going out to look for their missing father.
The family pretended the young boy had committed suicide for fear of repercussions if they told the truth.
Another of his eight siblings held their dying father in his arms after finding the train station where the execution took place, said Pan Hsin-hsing, his voice cracking.
The body was brought to their family's clinic, where he had worked as a doctor, and laid out in the waiting room so people could pay their respects.
Pan Hsin-hsing said another of his brothers and a sister were jailed for months as "communist spies"; several of his siblings have struggled with depression.
For years, he associated lilies with that terrifying time.
"I remember looking at the lilies and smelling their scent as men who came to pay their condolences got angry that my father was killed, while women wept," he said. "It was difficult to bear."
The massacres of 1947 were a prelude to wider purges of government opponents between 1949 and 1987 under martial law imposed by Chiang Kai-shek (蔣介石) and his son, when the KMT fled to Taiwan after it was defeated by Mao Zedong's (毛澤東) Chinese Communist Party in a civil war in China.
Official records say about 140,000 people were tried by military courts during the White Terror era, with between 3,000 and 8,000 executed. Many believe the actual numbers are higher.
President Tsai Ing-wen's (蔡英文) government has promised to investigate the purges, but with the first report not due for three years, some activists are critical of what they consider a lack of progress.
Yeh Hung-ling (葉虹靈) heads a campaign group seeking justice for victims' families and has been helping them track down last letters from loved ones.
Her group is calling for a new "political archives law" to allow them greater access to restricted files.
Other activists want to see Chiang's image wiped out — figures of him across Taiwan are defaced each year on the Feb. 28 anniversary.
Pan Hsin-hsing said Chiang is to blame for his father's death. He believes the memorial hall in the former leader's name in Taipei should be renamed and the statue of Chiang removed.
Some campaigners have threatened to topple the statue today to commemorate the massacre.
A government-funded report in 2006 found Chiang should take responsibility for the 1947 crackdown.
However, campaigners say there has been no official recognition of Chiang as the culprit, or his role in the wider purges.
"We demand the truth be clarified and those who were responsible be made accountable, with their names listed in official records and textbooks," Memorial Foundation of 228 executive director Yang Cheng-long (楊振隆) said.
Pan Hsin-hsing was one of the first ever Taiwanese to reveal his family's experiences during the purges — all discussion of the crackdown was taboo until martial law was lifted in 1987 and Taiwan began its journey to democracy.
After talking of his family's trauma at a church service about 10 years ago, surrounded by lilies, Pan finally started to lose his phobia of the flower.
"Speaking out helped heal the emotional wound," he said.
The cigarette pack on which his father wrote his last message is now archived at the National 228 Memorial Museum in Taipei, along with the bloodstained shirt he wore on the day he died.
Pan said the purges should be remembered to prevent another tragedy in Taiwan.
"We don't want revenge," he said. "We want justice."
Comments will be moderated. Keep comments relevant to the article. Remarks containing abusive and obscene language, personal attacks of any kind or promotion will be removed and the user banned. Final decision will be at the discretion of the Taipei Times.