Protesters call for oversight laws on cross-strait talks
The Democratic Progressive Party (DPP) has fallen behind in realizing promises to pass legislation on the supervision of cross-strait negotiations, protesters said yesterday outside the Legislative Yuan in Taipei.
A handful of Economic Democracy Union demonstrators brandished long, red Lunar New Year posters calling for the DPP to resume progress on the legislation.
"It is time for President Tsai Ing-wen (蔡英文) and the DPP to realize their promises, because it has been nearly three years since the Sunflower movement and this has dragged on too long," union spokesman Chien Nien-yu (簡年佑) said.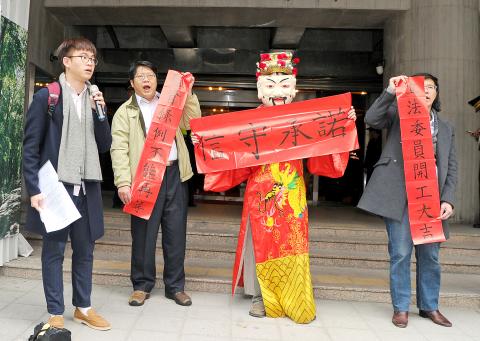 Economic Democracy Union convener Lai Chung-chiang, second left, a union member dressed as the god of wealth, second right, and two other protesters hold up spring couplets outside the Legislative Yuan in Taipei yesterday.
Photo: CNA
A formal legislative review has yet to begin for the articles, which are intended to guarantee public participation in cross-strait negotiations and were a key demand of Sunflower movement protesters.
Tsai had promised to promote the passage of the legislation in a 2015 speech announcing her candidacy for president.
While cross-strait negotiations have largely been frozen since Tsai took office in May last year, passage of the legislation remains critical because of the possibility for a new opening or pressure from China following the conclusion of the Chinese Communist Party's 19th National Party Congress later this year, making the next legislative session an important "breathing period" to consider new negotiation safeguards, Chien said.
"Completing a system for public participation will ensure that any harm to our democracy from future agreements can be minimized," Chien said. "We can avoid the possibility of the government undermining our democratic foundation for the sake of economic interests or the promise of some kind of political negotiations."
While Mainland Affairs Council Minister Katharine Chang (張小月) last month promised to make passage of the legislation a priority, little progress should be expected without an active response from the DPP caucus, he said, adding that the council had made similar promises before the previous legislative session.
No official version of supervisory legislation by the Executive Yuan was sent to the Legislative Yuan prior to the conclusion of the past legislative session last month, Chien said, adding that changes to draft amendments to the Referendum Act (公民投票法) have raised further concerns about the DPP's commitment to guaranteeing public participation in cross-strait negotiations.
The party originally promised to include a referendum requirement for cross-strait political agreements in the amendments, but such a provision was later deleted from the current draft bill, he said.
Comments will be moderated. Keep comments relevant to the article. Remarks containing abusive and obscene language, personal attacks of any kind or promotion will be removed and the user banned. Final decision will be at the discretion of the Taipei Times.