Cyclists demonstrate for Tibet
LHAKAR: The protesters plan to continue weekly Wednesday cycling runs until Tibetan Uprising Day on March 10, as part of global efforts to mark the Dalai Lama's 'soul day'
Cyclists flying Tibetan flags yesterday made a tour of Taipei as part of efforts to raise awareness ahead of the annual March for a Free Tibet next month.
More than 20 Tibetans and Taiwanese gathered outside National Chiang Kai-shek Memorial Hall's Liberty Square, shouting for a "Free Tibet" and the return of exiled Tibetan spiritual leader the Dalai Lama to Tibet.
The group then set off on a route which took them by the Legislative Yuan building, the offices of the Cross-Strait Economic and Cultural Interchange Association and Taipei 101, where they planned to hand out tracts and deliver speeches to Chinese tourists.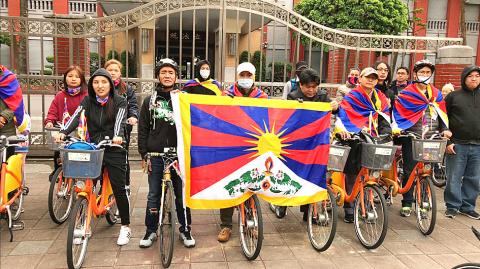 Tibetan rights advocates yesterday hold up a Tibetan flag outside the Legislative Yuan building in Taipei.
Photo: Chen Ping-hung, Taipei Times
"We hope Chinese can come to understand the true situation in Tibet," said Cycling for a Free Tibet founder Tashi Tsering (札西慈仁), an Indian-born advocate for Tibetan rights. "Because there is no way to protest like this in China, we want to represent Tibetans with our cycling."
Since the first cycle around Taipei in 2011, the two-wheeled protesters have advocated Tibetan rights, with the turnout more than doubling this year.
"Your wheels turn continually while cycling and this symbolizes our resolve to carry on the movement," human rights advocate Lin Hsin-yi (林欣怡) said.
A Wednesday was chosen as the day of the Taipei protest because the Tibetan self-reliance movement is known as "Lhakar" ("White Wednesday").
Tibetans around the world offer sacrifices and wear traditional dress on Wednesday every week to commemorate the "soul day" of the Dalai Lama.
The protesters plan to continue weekly Wednesday cycling runs until Tibetan Uprising Day on March 10.
"In the past, the world's high esteem for the Dalai Lama has helped Tibet's plight gain substantial attention, but there is now a danger that the cause will be silenced by China's rise," Covenants Watch chief executive officer Huang Yi-bee (黃怡碧) said. "At this difficult time, it is important that we stand up and say no to worldwide backtracking on democracy and human rights."
She called for Taipei to show official concern for Tibetan human rights and to assist Tibetans who wish to study or work in Taiwan.
Advocates plan to hold a candlelight vigil on March 10, with the annual March for a Free Tibet scheduled for Sunday, March 5.
Comments will be moderated. Keep comments relevant to the article. Remarks containing abusive and obscene language, personal attacks of any kind or promotion will be removed and the user banned. Final decision will be at the discretion of the Taipei Times.