KMT criticizes labor law, cites price increases
The Chinese Nationalist Party (KMT) yesterday criticized amendments to the Labor Standards Act (勞動基準法), which were enacted last month, saying they had caused prices of most consumer goods to increase and forced shops and businesses to close during the Lunar New Year holiday.
KMT Culture and Communications Committee deputy director Hung Meng-kai (洪孟楷) said there has been much inconvenience and disruption in people's lives since the amendments introduced the "one fixed day off and one flexible rest day" rule to enforce a 40-hour workweek policy and scrapped seven national holidays.
Hung said the new policy has made a mess of things, with most people demanding that the government review it and make adjustments.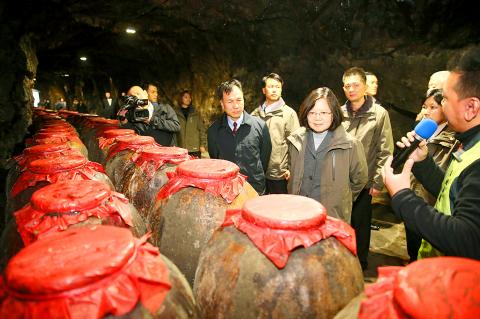 President Tsai Ing-wen, front row second right, and Lienchiang County Commissioner Liu Tseng-ying, front row third right, look at earthenware casks containing liquor at the Tunnel 88 distillery in Matsu's Nangan Township yesterday. Tsai visited the island to greet the troops stationed there and learn about the local distillery industry.
Photo: CNA
"We urge Premier Lin Chuan (林全) and President Tsai Ing-wen (蔡英文) to reflect during the Lunar New Year holiday on how to improve this policy," Hung said at a KMT news conference.
He cited as example funeral parlors in Pingtung City that had to shut down for five days for the holiday, as well as forcing the catering companies who supply food for worship and display at funeral services to close.
"How can a government policy affect funeral service providers? The implementation of 'one fixed day off and one flexible rest day' for workers has led to this result. It is rubbing salt in the wound for families with a deceased member in need of a proper funeral," he said.
He received reports of shops and services having to shut down over the weekend, Hung said, adding that some companies had to cancel annual employee health check-ups and can no longer provide subsidies for overseas holidays because of the changes to the labor law.
"In a recent survey, more than 70 percent of respondents said they are experiencing pressure from rising prices in most consumer goods, and about 65 percent of people felt their lives were being inconvenienced by the new policy," Hung said.
The policy has been in effect for more than a month, but most people still cannot adapt to the changes, he said.
Comments will be moderated. Keep comments relevant to the article. Remarks containing abusive and obscene language, personal attacks of any kind or promotion will be removed and the user banned. Final decision will be at the discretion of the Taipei Times.