Chinese war would be swift: ex-official
WARPED REPORT? DPP Legislator Lo Chih-cheng said that Taiwan has prepared to counter PLA tactics, adding that Lin Chong-pin may have been quoted out of context
Former deputy minister of national defense Lin Chong-pin (林中斌) said that the Chinese People's Liberation Army (PLA) could conquer Taiwan by force within three days, but added that a peaceful unification between Taiwan and China is likely.
In an interview with the Global Times Chinese daily published yesterday, Lin said that Taiwan's armed forces could only resist China's "acupuncture tactics" for 48 to 72 hours, as the PLA could paralyze Taiwan's command system using electromagnetic weapons and digital attacks.
Democratic Progressive Party Legislator Lo Chih-cheng (羅致政) said it was likely that Lin was quoted out of context, considering the Global Times' hawkish stance.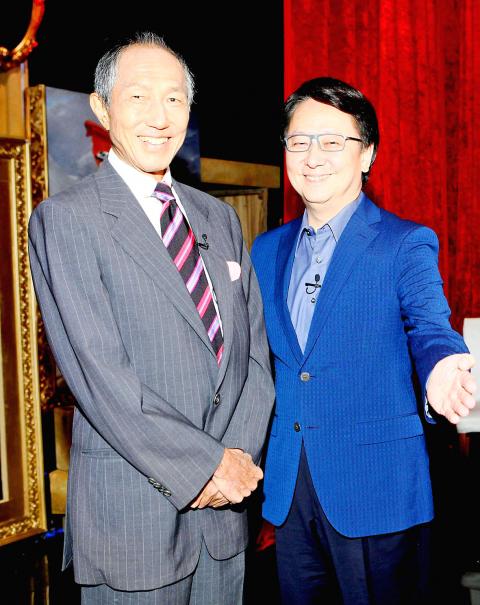 Former deputy minister of national defense Lin Chong-pin, left, and TV show host Li Si-duan pose for a photograph on Nov. 8.
Photo courtesy of Public Television Service
"China already has the ability [to carry out acupuncture warfare], which would be quite difficult for Taiwan to withstand," Lin told the Chinese newspaper. "Taiwan has admitted that [it can only defend itself for] between 48 hours and 72 hours."
The PLA has also infiltrated Taiwan and Beijing could subdue Taiwan in a bloodless war, he said.
The possibility of US interference in an armed conflict between Taiwan and China has diminished, as China has developed advanced anti-ship missile systems and submarine-launched cruise missiles that can target US aircraft carriers, he said.
However, it is more likely that Beijing would seek peaceful unification with Taiwan, Lin said, adding that it has "super-military measures" — the projection of China's economic, diplomatic and cultural power predicated on its strong military presence.
China has, without resorting to military means, shifted the Philippines' tone on the South China Sea issue after the Permanent Court of Arbitration in The Hague ruled in Manila's favor on the matter and Beijing could seek to exert the same sort of pressure on Taipei, he said.
Unificationist sentiment is on the rise in Taiwan, Lin said.
Despite President Tsai Ing-wen's (蔡英文) administration beginning to lose support, there is still a trend toward people identifying themselves as Taiwanese, he said.
Lin was a deputy minister of national defense in 2003 and 2004 while former president Chen Shui-bian (陳水扁) was in office.
"In theory, everything is possible, such as seizing Taiwan in three days. However, in reality, [war] is contingent upon a lot of things, including Taiwan's and the US' reaction," Lo said.
So-called "acupuncture warfare," or decapitation, is one of China's key strategies and Taiwan has countermeasures in place after years of military exercises, Lo said.
The nation's armed forces have simulated scenarios in a series of exercises to prepare for a hypothetical PLA attempt to "decapitate" Taiwan or barricade the nation, Lo said.
The former deputy minister could not be reached for comment as of press time last night.
The Ministry of National Defense refused to comment on Lin's remarks.
Comments will be moderated. Keep comments relevant to the article. Remarks containing abusive and obscene language, personal attacks of any kind or promotion will be removed and the user banned. Final decision will be at the discretion of the Taipei Times.