FTP chairman to serve jail term for removing statue
Free Taiwan Party (FTP) Chairman Tsay Ting-kuei (蔡丁貴) on Wednesday reported to the authorities in Taipei to serve a jail sentence he was handed for toppling a statue of Sun Yat-sen (孫逸仙) in a public park.
Tsay was convicted for taking the statue from Tainan's Tang Te-chang Memorial Park (湯德章紀念公園) during a protest against authoritarian symbols that he led in February 2014.
Last year, Tsay served a 30-day term for a separate offense of breaking and entering during a protest against nuclear power at the Fourth Nuclear Power Plant in New Taipei City's Gongliao District (貢寮).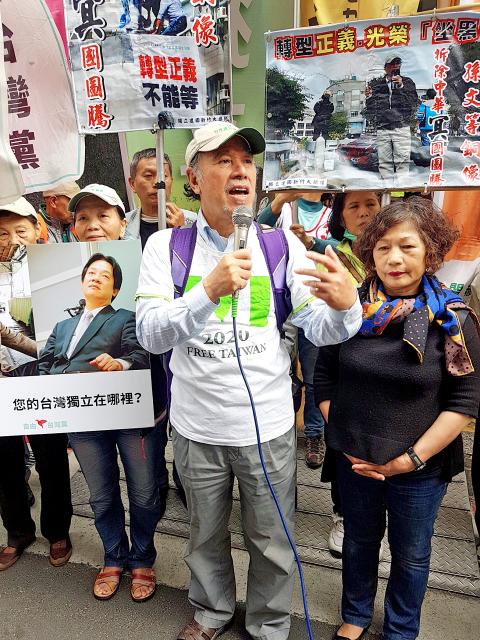 Free Taiwan Party Chairman Tsay Ting-kuei, center, speaks to the media in front of the Taipei District Prosecutors' Office on Wednesday.
Photo: Chien Li-chung, Taipei Times
The Tainan District Prosecutors' Office and Taipei District Prosecutors' Office have reached an agreement to combine the two offenses into a jail term of 55 days, from which 30 days were deducted for time served, meaning that Tsay is to serve a maximum of 25 days, or pay a fine.
Tsay talked to reporters in front of the Taipei District Prosecutors' Office saying that he intends to serve at least 10 days in prison because he promised his supporters that he would do so, adding that he might pay the fine in lieu of serving the full sentence.
Tsay said he had "no misgivings" about the verdict, but told reporters he blamed Tainan City Mayor William Lai (賴清德) for pressing charges.
"The students that imitated the Nazis were condemned, but the adults should reflect on their own actions in brooking the bronze authoritarian symbols on Liberty Square, which President Tsai Ing-wen (蔡英文) and Taipei Mayor Ko Wen-je (柯文哲) did not have the courage to remove," Tsay said, in reference to the statue and monument of Chiang Kai-shek (蔣介石) in Taipei.
Tsay said it is right for him to serve his sentence for vandalism, but the government should enforce the law against the pro-unification Patriot Association and imprison its members for their convictions over fighting.
"It is the right of their members like Chang Xiuye (張秀葉) to support unification, but they should not resort to violence. People who use violence should go to jail, just as I am willing to go to jail for toppling the statue of Sun Yat-sen. This is what the rule of law requires," he said.
Previously on Monday, Tsay led a demonstration in Tainan, demanding that the city remove its statutes of Sun and Chiang and make March 13 a memorial day for 228 Incident hero Tang Te-chang (湯德章).
Tang was a lawyer in Tainan during the 228 Incident and was burning a list of names of people who participated in the activities of the local Settlement Committee when soldiers came to arrest him.
He was subsequently executed.
The 228 Incident refers to the crackdown launched by the Chinese Nationalist Party (KMT) regime against civilian demonstrations following an incident in Taipei on Feb. 27, 1947. The event also marked the beginning of the White Terror era that saw thousands of Taiwanese arrested, imprisoned and executed.
Tsay said at the time that Lai's handling of the situation showed he had been "co-opted by the system that was ... turning the supporters of the Republic of China's independence against the supporters of Taiwanese independence."
"If Lai wants my forgiveness, he must remove all statutes of Sun Yat-sen and Chiang Kai-shek in Tainan by the end of the year," he added.
The Tainan City Government said on Monday that it was and still is firmly committed to transitional justice and cited its removal of statutes of Chiang from the city's public schools in 2015.
The city government also said it has renamed March 13 Justice and Courage Memorial Day in memory of Tang.
Comments will be moderated. Keep comments relevant to the article. Remarks containing abusive and obscene language, personal attacks of any kind or promotion will be removed and the user banned. Final decision will be at the discretion of the Taipei Times.