Hau says KMT bid will be well backed
GOU FOR PRESIDENT? The KMT vice president said that Hon Hai chairman Terry Gou had the best chance of being president in 2020 because of pan-blue support
Chinese Nationalist Party (KMT) Vice Chairman Hau Lung-bin (郝龍斌) yesterday said his bid for KMT chairperson would gain support from local and waishengren (外省人) factions, allowing him to unite the party, as he is less inclined to take part in politicking.
Waishengren refers to people who fled to Taiwan with the KMT in 1949 after its defeat in the Chinese Civil War.
He had intended to step down as vice party chairman to run in the May 20 race, but was convinced by fellow KMT Vice Chairman Jason Hu (胡志強) not to, Hau said in a radio interview, adding that part of his bid is to show that candidates could run for party chairperson and maintain cordial relations with other KMT members.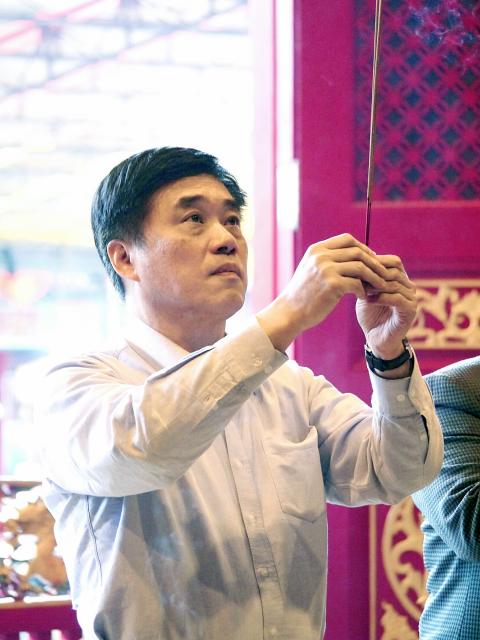 Chinese Nationalist Party (KMT) Vice Chairman Hau Lung-bin offers incense at the Sanching Temple in Yilan County's Dongshan Township yesterday.
Photo: Chien Hui-ju, Taipei Times
The campaign has just started and everything is up in the air, Hau said, adding that should he find his bid failing, he would resign as vice chairman.
Hau said his campaign would be better than his rivals'.
KMT Chairwoman Hung Hsiu-chu (洪秀柱) "should fare worse than I" in the campaign, Hau said, adding that Hung could improve her party administration capabilities.
He said that former vice president Wu Den-yih (吳敦義) had party administration experience, as well as governmental administrative experience, but the 68-year-old's age was not in his favor and he lacked support from the Huang Fu-hsing (黃復興) military veterans' branch.
The Huang Fu-hsing is the party's only special branch. Established in 1956 according to an initiative by then-president Chiang Ching-kuo (蔣經國) to protect the interests of veterans and to ensure that retired military personnel supported KMT policies, the branch holds considerable influence within the KMT.
Hau, the son of former premier Hau Pei-tsun (郝柏村), said that he has a deep connection with the Huang Fu-hsing branch and its members accepted him.
Hau said he had the support of KMT members from central and southern Taiwan after interacting with them over a referendum to maintain an import ban on food from five Japanese prefectures.
He would not run for president in 2020 if his chairperson bid is successful, Hau said, adding that he would ask Hon Hai Precision Industry Co chairman Terry Gou (郭台銘) to be the party's presidential candidate in such a scenario.
A party chairperson should help presidential candidates, so staking a claim to represent the party in the 2020 race would not be conducive to party solidarity and would interfere with the chairperson's role, Hau said.
Hau said that Gou had the best chance of being elected president in 2020.
At an event in Yilan County later yesterday, Hau said his assessment was based on pan-blue support for Gou over other party members.
The most important job for a party chairperson is to be impartial and to nominate the best candidate to run for president, Hau said.
The party will focus on winning local government elections next year and from there select the best candidate for the presidential race, he said.
Comments will be moderated. Keep comments relevant to the article. Remarks containing abusive and obscene language, personal attacks of any kind or promotion will be removed and the user banned. Final decision will be at the discretion of the Taipei Times.