Wu pledges just governance if elected
EVASIVE: When asked if he would run for president, Wu Den-yih said that the KMT would have a shot at coming back to power only if it wins next year's local elections
Former vice president Wu Den-yih (吳敦義) yesterday pledged to establish a just, efficient and harmonious government if the Chinese Nationalist Party (KMT) regains power again, as he announced his decision to run in the party's chairperson election.
Wu made the announcement at a news conference in Taipei, which was attended by KMT lawmakers, local elected representatives and representatives from the military and the business community.
In a speech marked by praises for former president Chiang Ching-kuo (蔣經國) and Republic of China (ROC) founder Sun Yat-sen (孫中山), Wu said he decided to throw his hat into the ring because the party, whose cultivation allowed him to climb from the position of Taipei City councilor to vice president, is in distress.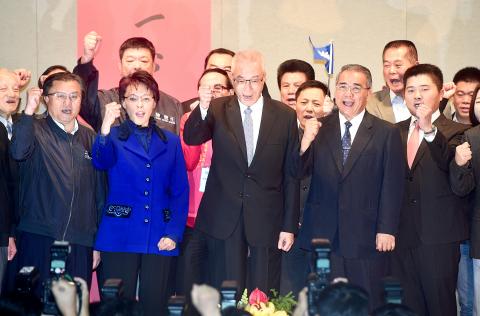 Former vice president Wu Den-yih, center, accompanied by his supporters, attends a news conference in Taipei yesterday.
Photo: Chien Jung-fong, Taipei Times
Speaking about his 40-year political career, Wu was briefly overcome by emotion when he talked about how the publication of his opinion pieces in prominent newspapers during his sophomore year at National Taiwan University led to a meeting with Chiang in 1968.
"In the autumn of 1972, when Chiang served as premier and KMT chairman, he asked then-China Youth Corps chief secretary Lee Huan (李煥) to inform me that per Chiang's instruction, the KMT planned to nominate a number of talented young Taiwanese for a Taipei city council by-election the next year, to allow the party to take root on the island," Wu said.
"Lee told me that Chiang personally wrote down my name on a piece of paper," Wu added.
Wu said for the KMT to regain control of the government, which is the primary goal of any political party, it must be an effective opposition party and take to heart the needs of the public.
Laying out four objectives for the KMT should it come to power again, Wu said all party members should make a concerted effort to establish the most efficient and friendly government possible, while working to ensure economic prosperity and equal distribution of wealth.
"Third, we should rebuild a just and harmonious society, where amicability exists between labor and capital, the younger and older generations, men and women, as well as concerned parties in the recent debates about legalizing same-sex marriage," Wu said.
Despite calling for respect for the survival and development of "people whose sexual orientation is different from that of the majority," the former vice president questioned the necessity to alter traditional family values that the majority has adhered to for years.
The final goal is to maintain peaceful development of cross-strait ties, Wu said, adding that it hinges on two vital foundations: the so-called "1992 consensus" and the principle of "no unification, no independence and no use of force."
The "1992 consensus" refers to a tacit understanding between the KMT and Beijing that both sides of the Taiwan Strait acknowledge there is "one China," with each side having its own interpretation of what "China" means. Former Mainland Affairs Council chairman Su Chi (蘇起) said in 2006 that he had made up the term in 2000.
Asked whether he intends to vie for the top office in 2020, Wu was evasive, saying it was too soon to talk about candidates for the next presidential race, because only by winning next year's local elections would the KMT stand a chance of regaining power in 2020.
He also shrugged off criticism that his candidacy in the KMT's chairperson race on May 20 would be detrimental to party unity, as he would be running against KMT Chairwoman Hung Hsiu-chu (洪秀柱) and KMT Vice Chairman Hau Lung-bin (郝龍斌).
"An election does not impede unity; an unfair and unjust one does," he said.
Comments will be moderated. Keep comments relevant to the article. Remarks containing abusive and obscene language, personal attacks of any kind or promotion will be removed and the user banned. Final decision will be at the discretion of the Taipei Times.