Most favor 'president of Taiwan': poll
'STRONGER SENTIMENT': A survey conducted by the Taiwan Thinktank showed increasing support for using the title 'Taiwan' instead of 'the ROC' in official matters
About half of Taiwanese said President Tsai Ing-wen (蔡英文) should refer to herself as "the president of Taiwan" while visiting the nation's diplomatic allies, marking a rise in Taiwanese identification, according to a poll released by the Taiwan Thinktank yesterday.
According to the poll, 49.4 percent of respondents said Tsai should introduce herself as the president of Taiwan — up from 39.8 percent in a May poll by the think tank — while 41.2 percent said she should refer to herself as the president of the Republic of China (ROC) — down from 44.7 percent in May.
Fifty-one percent of respondents said the nation should use "Taiwan" as its official title when participating in international events, while 34.6 percent preferred "the Republic of China" and 9 percent preferred "Chinese Taipei."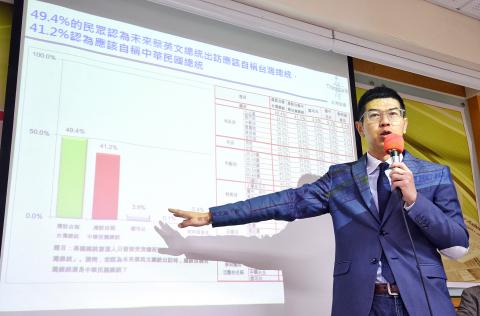 Taiwan Thinktank polling director Chou Yung-hong reports the results of a poll on national identity at a news conference in Taipei yesterday.
Photo: Liu Hsin-de, Taipei Times
When asked whether diplomatic missions in Taiwan should be identified as "representatives to Taiwan," as was the case during the administration of former president Chen Shui-bian (陳水扁), or as "representatives to [the Republic of] China," which has been the case since former president Ma Ying-jeou's (馬英九) administration, 55.9 percent of respondents said the missions should be referred to as "representatives to Taiwan," while 26.8 percent said they should be referred to as "representatives to China."
In terms of Taiwan's representative offices in other nations — usually called Taipei Economic and Cultural Offices — 66.7 percent of respondents said they should be renamed as "Taiwan representative office," while 22.14 percent said renaming is unnecessary.
"The poll results suggest a rise in Taiwanese identification especially among young people, with public identification with the ROC on the decline," Democratic Progressive Party (DPP) Legislator Lee Chun-yi (李俊俋) said.
"The poll shows a stronger public sentiment toward changing the official name of the nation," New Power Party Legislator Hsu Yung-ming (徐永明) said.
However, the terms "Taiwan" and the "ROC" are not mutually exclusive, as Chen and Ma had used the terms interchangeably, Hsu said.
When the respondents were asked which nation they regarded as the most important to develop close relations with, 42.1 percent said the US, 25.8 percent said China and 13.7 percent said Japan.
In the poll conducted by the think tank in May, 55.6 percent of respondents favored developing close ties with the US, 19.1 percent chose Japan and 15.7 percent preferred China.
The decrease in the number of people favoring stronger Taiwan-US ties might be caused by possible anxiety over deteriorating cross-strait ties, while young respondents aged between 20 and 29 show an evident preference for Japan, Taiwan Thinktank deputy executive director Lai I-chung (賴怡忠) said.
Regarding the controversial participation of retired military officers at a Chinese Communist Party event last month, 73.8 percent of respondents said it is inappropriate for former military officials to engage in political activities in China, while 16.6 percent said it is appropriate.
According to the poll, 73.9 percent said they support the establishment of a legal framework regulating retired military officials' visits to China, while 16.9 percent said they oppose it.
The poll, which was conducted between Monday and Tuesday last week and collected 1,072 valid samples, has a confidence level of 95 percent and a margin of error of 3 percentage points.
Comments will be moderated. Keep comments relevant to the article. Remarks containing abusive and obscene language, personal attacks of any kind or promotion will be removed and the user banned. Final decision will be at the discretion of the Taipei Times.