INTERVIEW: Kishi urges stronger Taiwan-US-Japan ties
Japanese State Minister for Foreign Affairs Nobuo Kishi, a member of the Diet's House of Councilors and brother of Japanese Prime Minister Shinzo Abe, called for the strengthening of Taiwan-US-Japan relations in an interview with 'Liberty Times' (the sister newspaper of the 'Taipei Times') staff reporter Tzou Jiing-wen in Tokyo on Nov. 30. He also said the proper solution to Taiwan's ban on food product imports from five Japanese prefectures is key to furthering Taiwan-Japan economic and trade cooperation
Liberty Times (LT): Many observers believe that Donald Trump's election as the US president will change international politics on a structural level, and for Japan, his attitude toward the US-Japan Treaty of Mutual Cooperation and Security and the Trans-Pacific Partnership (TPP) are of particular concern. What are your thoughts?
Nobuo Kishi: The election of Trump in early November was indeed a surprise to observers around the world, including Japan. It is possible that great changes will follow in Japan-US relations and the US grand strategy in Asia, according to some views.
From the Japanese perspective, Japan-US relations are the bedrock of its foreign relations and a relationship whose importance is not affected by who the current US president is, or by which US political party is in power.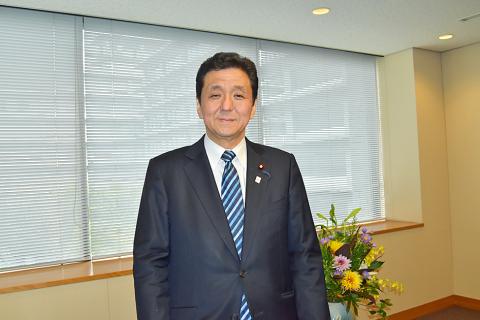 Japanese State Minister for Foreign Affairs Nobuo Kishi poses for a photograph during an interview in Tokyo on Dec. 10.
Photo: Tsou Ching-wen, Taipei Times
When Japanese Prime Minister [Shinzo] Abe was on his way to attend the APEC summit meeting in Peru [last month], he arranged to meet Mr Trump in New York, and became the first world leader to meet him after his election.
Abe and Trump talked for more than an hour and a half, which significantly exceeded the time scheduled for the meeting. Due to the informal nature of the meeting, its content was not published, but after its conclusion, Abe said with full confidence that he believes Trump is an absolutely trustworthy leader.
On this basis, the Japanese government hopes to develop mutual trust with Trump in the hope of furthering the Japan-US relationship.
From the perspective of the overall security situation in Asia, the regional importance of the US remains unaltered. Japan wishes to conduct further exchanges of opinions and communications with Trump on those issues.
LT: Have you been privy to any of the discussion between Abe and Trump that has not been released to the public?
Kishi: Shinzo Abe has not told me anything that has not been made public.
However, I will say that from the content of their discussion that is known, such as their photograph, I am fully confident that Japan will build an excellent relationship with Trump.
LT: In light of the changing international situation, will Japan be more active in pursuing bilateral relations with Taiwan, primarily in the areas of politics, economy and security?
Kishi: I must first say that in the view of the Japanese government, Taiwan shares common values, maintains close economic and personal ties with Japan, and is an important friend.
In particular, the annual exchange of visitors between the two has repeatedly broken records, with the number of visitors exchanged this year very likely to exceed 6 million person-visits.
In February, there was a major earthquake in southern Taiwan, and in April there was a major earthquake in Japan's Kumamoto area. Japanese and Taiwanese provided mutual assistance of their own initiative.
Such empathy and concern during difficult times demonstrates the goodwill that is shared not just by the two governments, but also extensively by our societies.
The Japanese government treats this goodwill of both sides as a significant basis for deepening exchanges and cooperating in areas such as economy and culture. We will continue to work diligently to improve them.
In particular, President Tsai Ing-wen's (蔡英文) administration has named [former National Security Council secretary-general] Chiou I-jen (邱義仁) and [former premier] Frank Hsieh (謝長廷) as the president of the Association of East Asian Relations (AEAR) and representative to Japan respectively.
We feel the appointment of these illustrious individuals shows a deep commitment to Japan-Taiwan relations by the Tsai government. We hope that frank and honest exchanges and communications will continue to flow through the AEAR and the Taipei Economic and Cultural Representative Office frameworks, allowing successful conclusion of any unresolved issues.
I believe Japan-Taiwan relations depend on more than exchanges at the level of our leaders or those frameworks. Rather, the heartfelt connection of our people for each other is crucial to the relationship. Japan-Taiwan economic relations have been in continuous development, with cooperative agreements having been signed on investment and aviation.
We believe our deep exchanges that are conducted on multiple levels need to be strengthened further. We also believe that maintaining regional peace and stability is highly important.
As we bolster trilateral relations between Japan, US and Taiwan, we also hope for the stable development of cross-strait relations.
LT: On the political side of things, is it possible that future Japan-Taiwan relations will follow something like the US' Taiwan Relations Act (TRA)?
Kishi: Japan is not currently making any moves toward implementation of a TRA-like policy, but the National Diet has done research in this area.
LT: On the economic front, what is the possibility of Japan and Taiwan signing an economic exchange agreement?
Kishi: We fully understand that Taiwan has expressed great interest in this, but the Japanese government is working hard to facilitate the establishment of the Trans-Pacific Partnership, which we know Taiwan is also interested in joining. Taiwanese participation in the TPP is something that we very much welcome.
As I said, due to the close nature of our bilateral relationship, there are numerous issues that we need to overcome together.
The issue we currently face is solving the prohibition of Japanese food imports to Taiwan. We feel this needs to be appropriately resolved to progress on trade talks.
LT: You brought up the issue of food imports. How does Japan view the disagreements over this issue in Taiwan right now?
Kishi: We closely watched the recent public hearings about whether to allow imports from Gunma, Tochigi, Ibaraki and Chiba prefectures. We are also aware that Taiwanese are deeply concerned about food safety.
I have visited Taiwan twice — once this May and once in May last year — to discuss the issue with relevant parties.
Japanese are also deeply concerned about restrictions on food imports to Taiwan. Food circulated in Japan goes through stringent inspections before it can be sold and thus there is no reason for safety concerns.
I feel there are some misunderstandings that must be cleared up. Specifically, Japan has zero intention of exporting to Taiwan food products that are not available for consumption in Japan; I hope there will be no misunderstanding on this point.
We hope Taiwanese will not be misled by unscientific discourse and are able to make a proper judgement and decision through rational discussion of the issue.
Japan is happy to provide whatever information Taiwanese authorities need to assist in their discussions. We look forward to resolving this issue, which we believe could help deepen and further the already solid Taiwan-Japan relationship.
LT: Former premier Simon Chang (張善政) and others have urged Japan to treat Taiwan the same way it has treated South Korea and provide place of origin certificates for imported food. What are your thoughts on that?
Kishi: South Korea still maintains import restrictions on certain food products, but the nation's concerns and the details of their control measures are notably different from those of Taiwan.
We firmly believe that product-origin certification issued by private organizations and government departments in Japan all provide credible proof of the products' safety.
The position of the Japanese government is that this trade issue with Taiwan has to do with whether Taiwan wants to approach food safety fairly in accordance with the principles of free-market economics or let it become a political issue.
We hope Taiwanese can remain calm and rationally find solutions to this issue.
LT: From my understanding, Taiwanese authorities are hoping that Japan will take the lead in the TPP should the US pull out. What are your thoughts on this?
Kishi: We are willing to play the role of regional leader, which was why we pushed for quick approval of the TPP in the National Diet.
[Note: Japan's House of Representative and the House of Councilors passed draft bills for the TPP and related laws in successive readings on Nov. 9 and Dec. 10.]
Translated by staff writers Jonathan Chin and William Hetherington
Comments will be moderated. Keep comments relevant to the article. Remarks containing abusive and obscene language, personal attacks of any kind or promotion will be removed and the user banned. Final decision will be at the discretion of the Taipei Times.