MND works 'toward' 2018 end to draft
TARGET: While the defense minister said 2018 was 'a decision that should not be changed,' a major general hinted that the date was a goal to be worked toward
The Ministry of National Defense (MND) yesterday reiterated its goal to build an all-volunteer military force by 2018 after Minister of National Defense Feng Shih-kuan (馮世寬) told lawmakers on Monday that conscription would end in 2018.
It is the ministry's goal to cease drafting citizens into service by 2018, "a goal that has to be worked toward," said Major General Fu Cheng-jung (傅政榮), director of the Human Resources Division of the ministry's Resources Management Department.
However, Fu's comment was more ambiguous than Feng's, who also said that ending conscription by 2018 was "a decision that should not be changed."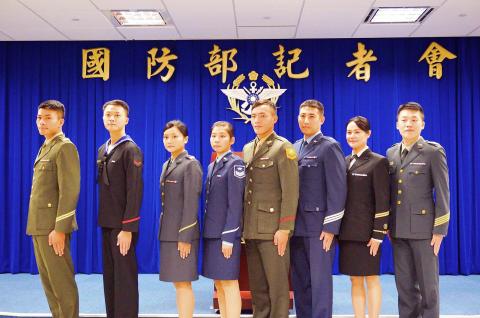 Army, navy and air force personnel at the Ministry of Defense in Taipei yesterday model the service stripes on uniforms that are to be provisionally instituted for volunteer servicemembers.
Photo: Tu Chu-min, Taipei Times
The ministry had previously been more flexible about the deadline for an all-volunteer force.
Fu said that the number of volunteer soldiers and officers has increased steadily in accordance with the ministry's predictions.
However, he did not give a direct reply when asked whether the military would have to continue conscription should it fail to recruit the necessary number of volunteers.
"The nation's military service system has not changed, and the draft system and the volunteer system have been developed in parallel," he said.
The ministry in 2008 announced that it would build an all-volunteer force by 2014, but ended up having to push back its target date for ending conscription several times.
Men born after 1994 are now exempt from one-year compulsory military service, but will still be required to undergo four months of mandatory military training upon reaching conscription age.
In other defense-related news, amid concerns over Chinese military aircraft that have circled Taiwan's air defense identification zone twice in two weeks, the ministry said the military will confront intruding Chinese military aircraft "fearlessly, without evasion or weakness."
However, the military's exact response would vary depending on whether the intruding aircraft appear hostile, Joint Operations Division Director Major General Chung Shu-ming (鍾樹明) said.
The military monitors China's military maneuvers closely and was fully aware of the two training missions around Taiwan's airspace, he said.
It opted to deal with the situation in a way that would not provoke conflict, Chung said.
In the event of a Chinese military fleet with reconnaissance capabilities circling Taiwan, the military would impose a strict control over high-tech weapons and other signal-emitting sources to prevent China from accessing sensitive data, Chung said.
As an example of that flexibility, ministry spokesman Major General Chen Chung-chi (陳中吉) said that a live-fire exercise of the Sky Bow II surface-to-air missile system in October at a base in Pingtung County was canceled after a Chinese reconnaissance ship was discovered off the southern coast.
In addition, the military has a humanitarian contingency plan to rescue the crew of Chinese military vessels should an accident occur, the ministry said.
Search and rescue missions would be deployed if Chinese vessels were involved in an accident in areas to the east of the middle line of the Taiwan Strait, Chung said.
China would be in charge of the search and rescue effort if such an accident occurred to the west of the middle line, he said.
Comments will be moderated. Keep comments relevant to the article. Remarks containing abusive and obscene language, personal attacks of any kind or promotion will be removed and the user banned. Final decision will be at the discretion of the Taipei Times.