Follow Taiwan on 'Three Principles,' Ma tells China
If the Chinese Communist Party (CCP) truly wants to realize the dreams of Sun Yat-sen (孫逸仙), it is welcome to come and learn from Taiwan, "as long as it can achieve Sun's ideals in a democratic and peaceful manner," former president Ma Ying-jeou (馬英九) said on Thursday at an event held by an association dedicated to the advocacy of Sun's The Three Principles of the People.
Speaking at KMT headquarters in Taipei, Ma said that Taiwan and China held commemorative events in November to mark the 150th anniversary of Sun's birth.
At the event in China, Chinese President and CCP General Secretary Xi Jinping (習近平) described party members as firm supporters, loyal collaborators and the most faithful successors of Sun's revolutionary spirit.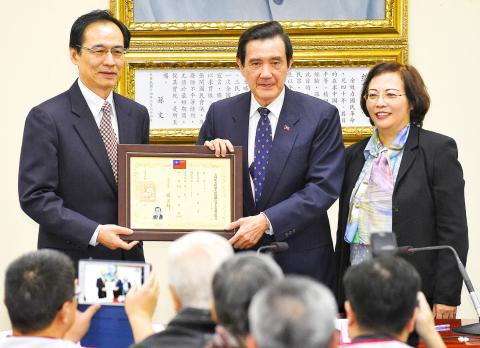 Former president Ma Ying-jeou, center, poses for a photograph in Taipei on Thursday holding a replica of a notice issued by the Ministry of the Interior in 1995 stating that his father, Ma He-ling, was to be the head of an association to promote Sun Yat-sen's "Three Principles of the People."
Photo: Chen Chih-chu, Taipei Times
Ma said that under his leadership the Republic of China (ROC) had lived up to Sun's hopes of being equal with other nations in the world, with the number of countries including Taiwan in their visa-waiver programs rising to 164 by the time he stepped down.
The Three Principles of the People embodied Sun's political philosophy and describes his vision for governance within the guidelines of democracy, nationalism and livelihood.
"We have moved past the history of the ROC being forced to endure unequal treaties and have become a respected equal," Ma said.
Despite having 173 diplomatic relationships around the world, the People's Republic of China (PRC) is only on the visa-waiver list for 50, Ma said, adding that in terms of nationalistic preference, China has won fear, while Taiwan has earned respect.
China has much to work on in terms of human rights, Ma said, adding that democracy in Taiwan was not strictly democracy in the Western sense, but instead adhered to the philosophy of Zuo Zhuan (左傳).
Zuo Zhuan includes a story involving sixth-century Chinese philosopher Zichan (子產), who was asked whether daily gatherings among agricultural workers should be banned.
Zichan said that the gatherings should be allowed, as they reveal what the government has done right and what it needs to correct.
In terms of livelihood, China is to be commended for committing to a large amount of infrastructure, such as more than 20,000km of high-speed railway tracks built in less than eight years, Ma said.
However, while Sun promoted equal wealth across the nation, the CCP has, under the reforms of former Chinese president Deng Xiaoping (鄧小平), focused on making a select few more wealthy.
"In Taiwan, we adhere to Sun's teachings of fair distribution of wealth and we have seen that it is a more effective way of governance," Ma said, adding that it would be best for both sides of the Taiwan Strait if they were to become competitors over which nation best implements Sun's teachings.
Ma's father, Ma He-ling (馬鶴凌), founded the association.
At the event, it presented Ma Ying-jeou with a replica of the notice issued by the Ministry of the Interior in 1995 stating that Ma He-ling was chosen to be the head of the association.
Additional reporting by CNA
Comments will be moderated. Keep comments relevant to the article. Remarks containing abusive and obscene language, personal attacks of any kind or promotion will be removed and the user banned. Final decision will be at the discretion of the Taipei Times.