Most favor new law for gay unions: survey
More than half of Taiwanese are in favor of legalizing same-sex marriage, but lean toward the promulgation of a new act to achieve the goal, according to a survey released yesterday by the Chinese Nationalist Party (KMT), which called for public hearings to be held to solicit more opinions.
The poll, conducted on Tuesday and Wednesday last week by Trend Survey and Research at the behest of the KMT, found that 51.7 percent of respondents supported amendments aimed at legalizing homosexual unions, compared with 43.3 percent who disapproved.
As for the issue of how to legalize same-sex marriage, 53.3 percent of those polled said they preferred promulgating a "civil partnership bill," while 32.2 percent said they favored amending the Civil Code.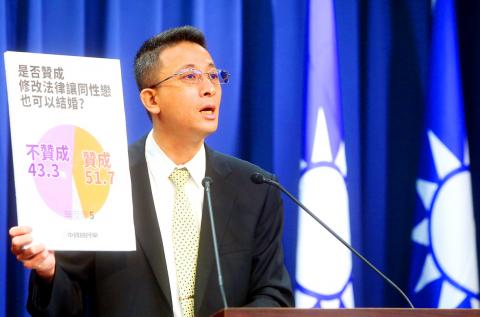 Chinese Nationalist Party (KMT) Culture and Communications Committee deputy director Hu Wen-chi at the party's headquarters in Taipei yesterday holds a chart showing the results of a Trend Survey and Research poll on attitudes toward same-sex marriage.
Photo: CNA
Only 0.4 percent of the respondents supported both approaches, with 4.9 percent liking neither, the survey showed.
Among the respondents 64.1 percent said they think that having a separate law would not discriminate against homosexuals; 25.5 percent said it would be a problem, while 63.3 percent said that legislative efforts should only be made after supplementary measures were put in place — given that amendments to the Civil Code could involve a wide range of legal rights — and 21.4 percent disagreed.
The poll asked respondents whether they could accept the removal of the terms "husband and wife," "man and woman," and "father and mother" from government documents, with 54 percent saying they did not approve and 39.6 percent saying it would be acceptable.
A majority said that marriage as it has been defined throughout history is conducive to the public interest, with 52.2 percent agreeing that procreation is central to the institution, which would exclude same-sex couples from marriage because they cannot bear children without a third party.
Forty percent said that the definition of marriage did hold procreation as a central tenet.
When it came to homosexual family members, 48.7 percent said they could not accept such a situation, while 46.1 percent said they could.
The survey collected 1,070 valid samples.
It has a confidence level of 95 percent and a margin of error of 3 percentage points.
KMT Culture and Communications Committee Deputy Director Hu Wen-chi (胡文琦) said that as opponents of same-sex marriage have resorted to various channels to express their opinions, the issue requires a much more extensive discussion to reach a higher level of public consensus.
"The government should hold more public hearings to ensure that the issue is fully discussed," Hu said, urging the Democratic Progressive Party (DPP) to refrain from playing "good cop, bad cop" to fool the public, an apparent reference to DPP caucus whip Ker Chien-ming's (柯建銘) remarks last week that the DPP was leaning toward enacting a separate bill, which prompted DPP Legislator Tuan Yi-kang (段宜康) to say that "Ker's personal view dos not represent that of the DPP as a whole."
Comments will be moderated. Keep comments relevant to the article. Remarks containing abusive and obscene language, personal attacks of any kind or promotion will be removed and the user banned. Final decision will be at the discretion of the Taipei Times.