DPP lawmaker sorry for ethnic slur
ALL THE WAY: KMT New Taipei City Councilor Yang Chun-mei said President Tsai Ing-wen should apologize as well, or the nation's Aborigines would 'take to the streets'
Democratic Progressive Party (DPP) Legislator Chiu Yi-ying (邱議瑩) yesterday bowed in apology in the Legislative Yuan for using a pejorative term about Aborigines on Wednesday, after an online apology and a statement failed to appease Aboriginal lawmakers and civic groups.
A proposal by the Chinese Nationalist Party (KMT) caucus to turn Chiu over to the legislature's Discipline Committee was voted down by the DPP caucus yesterday, after which KMT lawmakers demanded an apology from Chiu.
Chiu walked to the center of the legislative chamber and bowed, saying "sorry" first to KMT lawmakers and then toward the audience mezzanine where reporters are seated.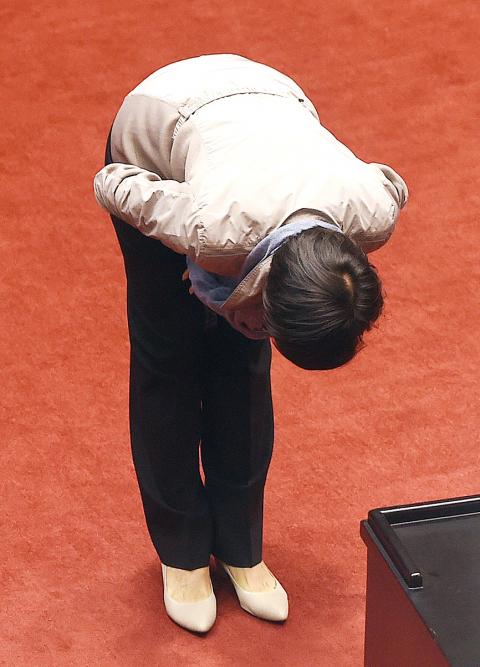 Democratic Progressive Party Legislator Chiu Yi-ying, left, yesterday bows in apology on the floor of the Legislative Yuan for using a pejorative term about Aborigines during a committee meeting on Wednesday.
Photo: Liao Chen-Huei, Taipei Times
KMT legislators Sufin Siluko (廖國棟), an Amis Aborigine, and Yosi Takun (孔文吉), a Sediq, and other Aboriginal lawmakers on Thursday criticized Chiu, saying her apologies were "insincere and unacceptable."
During a meeting of the legislature's Economics Committee on Wednesday, the KMT caucus asked to have Council of Agriculture officials report on the government's plan to lift a ban on Japanese food imports from prefectures surrounding the Fukushima Dai-ichi nuclear power plant meltdown, while DPP lawmakers said that a budget bill for the council should be given priority, leading to an argument between the two sides.
According to Sufin, Chiu said told KMT lawmakers: "There is no use talking to you huan-a [番仔, 'uncivilized person']."
Chiu later said that the term meant "unreasonable person" in Hoklo (also known as Taiwanese), but following an outcry from Aboriginal lawmakers, she released a statement saying she did not intend to provoke Aborigines and regretted causing offense.
"A politician should be circumspect in speech and action, and I sincerely apologize for any misunderstanding that might have resulted from my statements," she wrote on Thursday in a Facebook post.
However, Sufin on Thursday said that "every single one of Taiwan's 23 million citizens knows huan-a is a derogatory term for Aborigines."
Chiu, President Tsai Ing-wen (蔡英文) and the DPP caucus should formally apologize, he said.
Sufin said he had initiated Discipline Committee proceedings against Chiu and would file an additional motion to condemn her remark at the legislature's general assembly.
"Chiu's apology is insincere and unacceptable. President Tsai must make another apology to Aborigines and the DPP caucus should fix this," he said.
KMT Legislator Sra Kacaw (鄭天財), an Amis, said Chiu's remark could have been made in the heat of the moment, but her ensuing apologies were "attempts to cover up anti-Aborigine discrimination."
KMT Legislator Chien Tung-ming (簡東明), who also goes by his Paiwan name, Uliw Qaljupayare, said many Aboriginal residents of his constituency in Pingtung County had expressed their anger to him during face-to-face meetings on Wednesday, and that they wanted him to publicly reiterate their condemnation.
"I cannot believe hearing this from my friend Chiu," said Non-Partisan Solidarity Union Legislator May Chin (高金素梅), an Atayal.
Chin said she believes Chiu "made the comment without ill-intent and in the heat of the moment," but apologing afterward "should not have been so difficult."
In related news, KMT Taipei and New Taipei City councilors on Thursday held a news conference at the KMT headquarters in Taipei, calling for Aborigines to "break the silence and stand in solidarity."
New Taipei City Councilor Yang Chun-mei (楊春妹) also panned Minister of Council of Indigenous Peoples Icyang Parod.
"As the highest official in charge of Aboriginal affairs, he abandoned his responsibility to defend Aborigines from Chiu's language," Yang said, adding that Tsai needs to apologize to Aborigines or they would "take to the streets" in protest.
Additional reporting by CNA
Comments will be moderated. Keep comments relevant to the article. Remarks containing abusive and obscene language, personal attacks of any kind or promotion will be removed and the user banned. Final decision will be at the discretion of the Taipei Times.