DPP warns Hung as Xi meeting looms
'RED LINE': DPP Legislator Yeh Yi-jin said that no party has the right to negotiate treaties, amid speculation that the KMT chairwoman is set to propose a peace treaty with China
The Democratic Progressive Party (DPP) caucus yesterday called on Chinese Nationalist Party (KMT) Chairwoman Hung Hsiu-chu (洪秀柱) not to sign any agreements with China, amid speculation that Hung might propose a peace treaty at a meeting with Chinese President Xi Jinping (習近平) today.
Ahead of the annual forum between the KMT and the Chinese Communist Party (CCP) in Beijing today, the caucus reiterated that it is a party-to-party event and warned Hung not to cross the "red line" by proposing bilateral agreements without government authorization, DPP caucus chief executive Wu Ping-jui (吳秉叡) said.
According to the Act Governing Relations Between the People of the Taiwan Area and the Mainland Area (兩岸人民關係條例), Taiwanese individuals and organizations are prohibited from entering into any political agreement with China unless authorized by the government, Wu said.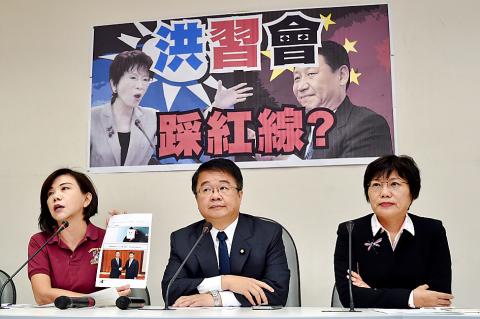 Left to right, Democratic Progressive Party legislators Yeh Yi-jin, Wu Ping-jui and Liu Shih-fang hold a news conference at the legislature in Taipei yesterday to warn Chinese Nationalist Party (KMT) Chairwoman Hung Hsiu-chu against making any agreements with the Chinese Communist Party during her visit to China.
Photo: Chien Jung-fong, Taipei Times
Hung might try to seek concessions from China to build her legacy and secure her position against a potential challenge by former vice president Wu Den-yih (吳敦義) in the KMT chairperson election, Wu Ping-jui said.
When running as a presidential candidate, Hung showed a strong inclination toward unification with China, as she said that the so-called "1992 consensus" could evolve from the "one China, different interpretations" framework to "one China, same interpretation," causing senior KMT members to try to muzzle her ahead of the meeting, he said.
The so-called "1992 consensus" — a term former Mainland Affairs Council chairman Su Chi (蘇起) admitted making up in 2000 — refers to a tacit understanding between the KMT and the Chinese government that both sides of the Taiwan Strait acknowledge there is "one China," with each side having its own interpretation of what "China" means.
"It is a fake issue to distinguish between 'same interpretation' and 'different interpretations,' because none of the KMT delegates [to the forum] dare mention 'different interpretations,'" DPP Legislator Lee Chun-yi (李俊俋) said.
The "eight understandings" reached between a Taiwanese delegation of eight local government leaders — consisting mostly of KMT officials — and China last month was already a breach of the act, Lee said.
DPP Legislator Yeh Yi-jin (葉宜津) said Hung had proposed that a peace treaty be signed between Taiwan and China, but no political party has the right to negotiate international treaties, especially when the KMT is not even in power.
Since former vice president Lien Chan's (連戰) meeting with former Chinese president Jiang Zemin (江澤民) in 2005, the KMT has made it a tradition to hold talks with the CCP under the "1992 consensus" framework, but that framework has been undermined, Yeh said.
In their separate meetings with Xi, former KMT chairman Wu Po-hsiung (吳伯雄) reiterated the "1992 consensus" and opposed Taiwanese independence, while former KMT chairman Eric Chu (朱立倫) urged increased bilateral cooperation in the Asia-Pacific region based on the "1992 consensus."
However, former president Ma Ying-jeou (馬英九) stressed the bond between Taiwan and China under the "one China" framework of the "1992 consensus," Yeh said.
The DPP does not accept the "one China" principle and Hung should not make any concessions on the cross-strait relationship, Yeh said.
Comments will be moderated. Keep comments relevant to the article. Remarks containing abusive and obscene language, personal attacks of any kind or promotion will be removed and the user banned. Final decision will be at the discretion of the Taipei Times.