Sonar blamed as dolphins found dead on beaches
A common bottlenose dolphin was found dead on a beach at Guihou Harbor (龜吼) in New Taipei City's Wanli District (萬里) in the early hours of Wednesday, the latest incident in what is believed to be an unusual spike of stranded dolphins and whales in the aftermath of recent typhoons.
Taiwan Cetacean Society official Yang Wei-cheng (楊瑋誠) said the overwhelming majority of the strandings were likely to have been the result of sonar emissions, which can frighten many species of cetaceans, which use ultrasound for navigation.
Soon after the discovery of the dead dolphin, Coast Patrol Corps 2-1 and Gui Hou Harbour Safety Inspection Office personnel established a cordon and notified the society to remove the animal, sources said.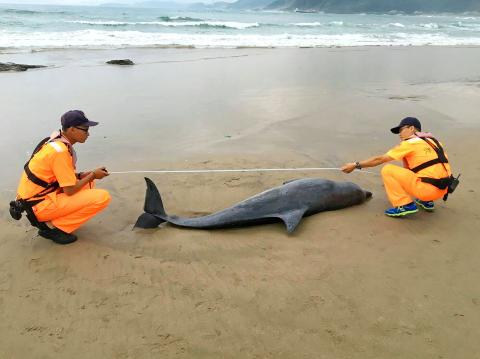 Coast Patrol Corps personnel measure a dead bottlenose dolphin at Guihou Harbor in New Taipei City's Wanli District on Wednesday.
Photo: Lin Chia-tung, Taipei Times
On Aug. 29, a dolphin was found dead at Green Bay (翡翠灣), less than 1km from the latest incident.
Since Typhoon Megi made landfall on Sept. 28, there have been 12 strandings of whales or dolphins on Taiwan's coastlines north of Yilan and Taoyuan, with all the animals being deep-sea species that spend time at depths of 1,000m to 2,000m, Yang said, adding that the preliminary results of an investigation would be published in the middle of next month.
In 2005, between 15 and 20 cetaceans were found dead or dying on beaches in northern Taiwan after Typhoon Haitang, Yang said.
At the time, the society enlisted international experts to assist in its research and based on the large volumes of air found in the dead animals' organs, it was concluded that they died of decompression sickness following a rapid ascent from deep water.
The scientific consensus on cetacean strandings, based mostly on work by Western scientists in the Atlantic Ocean, blames the phenomenon on military-grade sonar, Yang said.
Prior to their death, the animals were probably subjected to sonar emissions from military sources, became terrified and attempted to flee by making a rapid ascent, resulting in fatal decompression, Yang said.
Because many powerful typhoons have passed near Taiwan without incident, a causal relationship between typhoons and strandings cannot be established, Yang said, adding that naval activities concurrent with Typhoon Megi might have caused the strandings.
The quietness of modern submarines has led to a corresponding increase in the power of sonar equipment used to detect them, and the US Navy has placed sonar devices in the waters near Japan's Ryukyu Islands and the Philippines — to Taiwan's north and south — to counter the threat of missile-armed submarines from China, Yang said.
Due to those developments, large-scale cetacean strandings will most likely be repeated, Yang said.
Comments will be moderated. Keep comments relevant to the article. Remarks containing abusive and obscene language, personal attacks of any kind or promotion will be removed and the user banned. Final decision will be at the discretion of the Taipei Times.