'Old Dutch Fort' in Tamsui reopens after repairs
PARTY TIME: The Tamsui Historical Museum hosted a celebration to mark the restoration, the fort's 370th anniversary, its annivesary and National Heritage Day
The "Old Dutch Fort" in Fort San Domingo yesterday officially reopened after being closed for almost two years for restoration.
The landmark in New Taipei City's Tamsui District (淡水), also known as Fort Antonio, was closed for renovation in January last year as widespread repairs were needed to fix leaking roofs and decaying exterior walls.
Repair work was finished in the middle of last month, followed by a one-month inspection by Tamsui Historical Museum officials.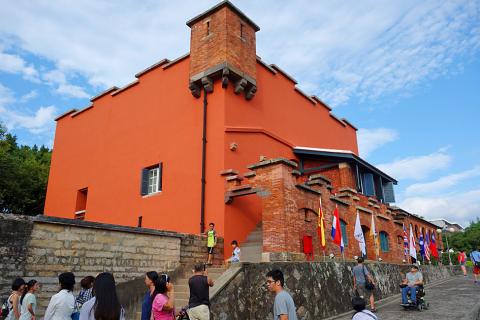 Visitors yesterday tour Fort San Domingo in New Taipei City's Tamsui District after the old Dutch fort was reopened following an 18-month-long restoration project.
Photo: Yeh Kuan-yu, Taipei Times
The museum, which is in charge of the national historic site, held a ceremony yesterday to celebrate the reopening of the fort — on the 370th anniversary of its establishment — as well as National Heritage Day and the museum's own 11th anniversary.
Workshop in Heaven Theater (黑門山上的劇團) performed a play on the stories related to Fort San Domingo as part of the celebration.
The fort has been renovated three times, including the latest effort, museum officials said.
Water had infiltrated the fort's structure because the roof could not drain properly, museum officials said, adding that the walls, which are about 1.7m thick, trap humidity inside the building, leading to cracks and decay, while the wooden floors had become moldy.
The restoration team also worked to ensure that the paint on the exterior walls resembled the one used by the Dutch builders, which turned out to be a challenge.
Museum officials said they sent paint samples taken from the walls before the 1985 restoration effort, after that restoration and after the 2004 restoration to be analyzed at a laboratory in Germany.
Based on its analysis of those samples, the laboratory suggested four colors for members the restoration supervisory committee to choose from for the exterior paint.
Fort San Domingo was established in 1629 by Spanish forces occupying northern Taiwan.
The original structure was destroyed during a nighttime attack in 1636 launched by Chinese merchants from China's Fujian Province, who were upset by the taxes that the Spanish governor had imposed on their businesses.
The Spanish rebuilt the fort, which suffered major damage during a war with Dutch forces.
The Dutch rebuilt the fort after they ousted the Spanish from northern Taiwan, completing reconstruction in 1646, when the installation was renamed Fort Antonio.
As the locals called the Dutch "the red-haired people," the fort became known as the "fort of the red-haired people" (紅毛城).
Comments will be moderated. Keep comments relevant to the article. Remarks containing abusive and obscene language, personal attacks of any kind or promotion will be removed and the user banned. Final decision will be at the discretion of the Taipei Times.