Suspect detained in Taipei after theft of science artifacts
A man suspected of stealing valuable artifacts from the Eikichi Iso Memorial House in Taipei was apprehended on Tuesday, police said.
The site, on a National Taiwan University (NTU) farm, was previously the workshop of Eikichi Iso, a Japanese agronomist from the Japanese colonial era who was credited for creating Penglai rice, a variety that is still cultivated today.
Taipei City Police Department's Daan Precinct said that on Aug. 10, NTU officials reported a break-in, during which seven artifacts were stolen, including a valuable Japanese-made mechanical calculator manufactured by Tiger Calculating Machine Co that is reputed to be the most advanced calculator of its kind when it was made — half the size of the most sophisticated German machine.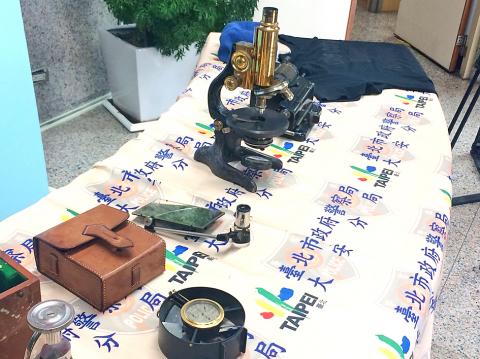 Items allegedly stolen from the Eikichi Iso Memorial House in Taipei are displayed in Taipei on Wednesday.
Photo: Chiu Chun-fu, Taipei Times
Only three of the devices are known to remain in Taiwan, police said.
Other antique scientific instruments allegedly taken from the house included a brass microscope piece that was considered high-powered and well-made for its time, a rice grain hardness tester, an anemometer, a device described as a "plotter," a microscope camera and a leather ruler.
Police named Song Lan-tien (宋藍田), 41, as the suspect, saying he had confessed to the crime following his apprehension, and that they had found the stolen items in a vehicle.
Song said he has been trading antiques online using his cellphone and he kept his collection in his vehicle because he does not have a fixed address, police said.
Song was formerly a member of the Bamboo Union crime cartel and was released from prison last year after serving time for a sex crime, police said.
Song described himself as having been an antiques aficionado since childhood, police said, adding that he has an impressive knowledge of antiques, especially brass instruments, and is able to expound on their history at length, despite having no college education.
Song was quoted as telling the police that at 4am on Aug. 10, he was cycling in the neighborhood and saw the Eikichi Iso Memorial House was poorly secured.
He broke into the house by kicking down its wooden door, police said.
Inside, Song found items that he called "priceless treasures," police said, adding that the suspect told them the antiques would have been too difficult to sell, even if he had he wanted to.
He planned to steal five other bulky pieces by moving them to a nearby shed for later retrieval, but when he returned the next morning, he found that surveillance cameras had been installed and the shed doors were locked, prompting him to flee, police quoted Song as saying.
Police said they reviewed surveillance footage and found Song after locating his bicycle.
All the stolen items were recovered, they said.
Comments will be moderated. Keep comments relevant to the article. Remarks containing abusive and obscene language, personal attacks of any kind or promotion will be removed and the user banned. Final decision will be at the discretion of the Taipei Times.