Chaos as cat-death trial begins
'BIG ORANGE' BUTCHER? Chan Ho-yeung admitted guilt, telling judges: 'I have a psychological problem, and I could not control the compulsion to kill a cat'
There were chaotic scenes outside the Taipei District Court yesterday as the trial of suspected cat killer Chan Ho-yeung (陳皓揚) opened, with angry protesters scuffling with police and some breaking through a cordon to attack Chan as he left the building.
More than 100 animal rights activists gathered in front of the court to protest against the killing of popular stray cat "Big Orange" in December last year, shouting that Chan was "human trash" and "a low life" and demanding that the court sentence him to the heaviest penalty stipulated by the Animal Protection Act (動物保護法).
Chan has also been accused of beating to death a cat known as "Ban Ban" (班班), that had been kept as a pet by a vegetarian restaurant and went missing on Aug. 2.
Suspected cat killer Chan Ho-yeung, foreground, winces as police officers, protesters and reporters scuffle around him outside the Taipei District Court yesterday.
Photo: CNA
The 22-year-old National Taiwan University (NTU) graduate student from Macau represented himself without a lawyer at the proceeding, where he was charged with violating the Animal Protection Act over Big Orange's death.
Chan admitted guilt, telling judges: "I have a psychological problem, and I could not control the compulsion to kill a cat. So when I saw Big Orange as I was passing by, I could not restrain myself from committing the crime."
Prosecutors said NTU had provided Chan with psychological counseling, but he still allegedly killed a second cat, which shows that he has deeply ingrained antisocial tendencies and lacks compassion for animal life.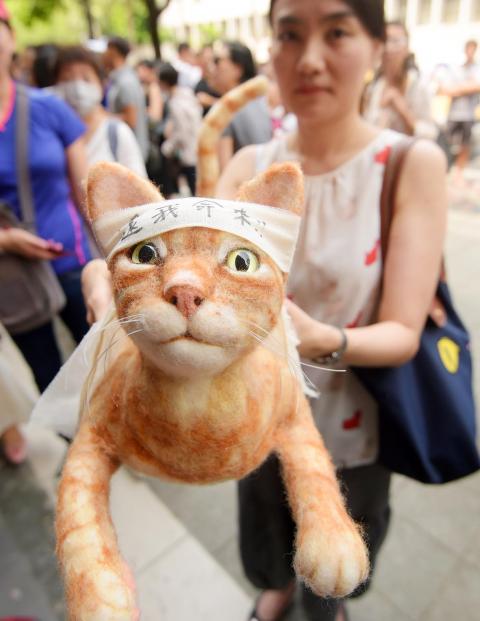 A cat fan club organizer surnamed Liu holds an effigy of "Big Orange," a cat allegedly killed by student Chan Ho-yeung, during a protest organized by the Trees Party outside the Taipei District Prosecutors' Office yesterday.
Photo: Huang Yao-cheng, Taipei Times
Therefore, counseling is insufficient, and Chan should be ordered to undergo psychiatric treatment at NTU Hospital, to stop him from torturing and killing any more cats, prosecutors said.
The judges released Chan on NT$200,000 bail. His next court appearance is scheduled for Sept. 22.
Trees Party Secretary-General Lee Chien-ming (李建明) said that the courts usually treat animal abusers leniently.
Chan is a repeat offender, as he allegedly killed another cat in Taipei on Aug. 2, and he should be punished proportionately and ordered to undergo therapy, Lee said.
Animal rights advocates called on the legislature to immediately approve draft amendments of the Animal Protection Act, which would double the penalties for animal cruelty from a maximum one-year prison sentence and a fine of between NT$100,000 and NT$1 million (US$3,197 and US$31,969) to a maximum two-year prison sentence and a fine of between NT$200,000 and NT$2 million.
Democratic Progressive Party Legislator Huang Wei-cher (黃偉哲) said animal cruelty is an early predictor of later violent crimes against people, and increased penalties for animal abuse are necessary to prevent more serious crimes.
Animal rights advocates from Macau said they suspect Chan was behind the deaths of three stray cats in Macau during the Lunar New Year holidays, and they were concerned that Chan would harm more animals if he was released and deported to the territory.
Chan was escorted through a furious crowd to a car supplied by NTU, with protesters throwing objects and trying to obstruct the car.
Before he got into the car, protesters scuffled with police trying to protect Chan, who was punched, gouged, and put in a headlock by members of the crowd.
Several court bailiffs and journalists were knocked down by the surging crowd, with some sustaining minor bruises.
Two police officials also received minor injuries during the commotion.
Comments will be moderated. Keep comments relevant to the article. Remarks containing abusive and obscene language, personal attacks of any kind or promotion will be removed and the user banned. Final decision will be at the discretion of the Taipei Times.