Wu Den-yih denies 2020 presidency bid
RUMORS: The ex-VP is said to have hired additional office staff, created direct links with media and tried to attract attention in an attempt to secure the KMT chairmanship
Former vice president Wu Den-yih (吳敦義) has downplayed Chinese Nationalist Party (KMT) Chairwoman Hung Hsiu-chu's (洪秀柱) reported suggestion that he run for the presidency in 2020 and leave the KMT chairperson seat to her, saying he "has not thought that far ahead."
Wu made the remarks on Saturday in response to media queries on the sidelines of an event held by the Liver Disease Prevention and Treatment Research Foundation.
Hung reportedly proposed at a gathering with media that Wu should run for the top office in 2020 and allow her to seek re-election for the KMT chairmanship after her term expires in July next year.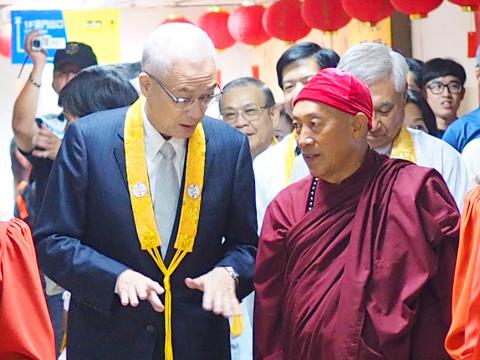 Former vice president Wu Den-yih, left, speaks to Chan Master Hsin-tao at an event in Taipei yesterday.
Photo: Chen Yun, Taipei Times
Wu did not comment on reports that he is planning to run against Hung for the KMT leadership next year, saying only that he would give it serious thought.
"Although many friends of mine have entrusted me with such a mission [running for KMT chairmanship], I still have to listen to different opinions," Wu said, adding that it is too early for him to decide.
Wu said it is unnecessary to discuss the KMT chairperson election at the moment, particularly when the party is preparing for the repercussions of the Act Governing the Handling of Ill-gotten Properties by Political Parties and Their Affiliate Organizations (政黨及其附隨組織不當取得財產處理條例).
KMT headquarters should be given ample time and energy to handle this properly, Wu added.
In an attempt to assuage controversy, KMT Culture and Communications Committee Director Chow Chi-wai (周志偉) said that what Hung meant was that given Wu's ability, he should not confine himself to being KMT chairman and should consider running for president.
"Hung then said that should Wu decide to run for the presidency, she, as chairwoman of the KMT, would help with his campaign," Chow said.
Meanwhile, there are rumors that the KMT is mulling giving its staff five months' salary in advance to prevent the money being seized by the government following the legislature's passage of the ill-gotten party assets act on July 25.
The alleged policy has been interpreted by some KMT members as an attempt by Hung to increase her chance of being re-elected as party chairwoman.
A member of Hung's camp, who spoke on condition of anonymity, urged those "hiding in the dark" to refrain from plotting against Hung, saying: "If Hung is knocked down, it is likely that the KMT will suffer the same fate."
In an apparent attempt to pacify anti-Hung cadres within the KMT, Hung is to hold 11 nationwide forums to listen to the opinions of party representatives.
Political observers speculated that Wu, seen by Hung's camp as the incumbent KMT chairwoman's archrival, has an interest in taking over the position.
In addition to creating a Line group to facilitate communications with the media, Wu has hired more staff and tried to attract media attention, observers said.
Wu made a pledge to pay a fine that might be issued to a group of Taiwanese fishermen who sailed to Itu Aba to assert the nation's sovereignty over the island and its surrounding waters last month for alleged violations of the Fisheries Act (漁業法).
Comments will be moderated. Keep comments relevant to the article. Remarks containing abusive and obscene language, personal attacks of any kind or promotion will be removed and the user banned. Final decision will be at the discretion of the Taipei Times.