Hanoi silent on treatment: DPP's Su Chih-feng
CALL FOR TRANSPARENCY: DPP Legislator Su Chih-feng said that the Vietnamese government should reveal its findings in a case involving Formosa Plastics Group
Democratic Progressive Party Legislator Su Chih-feng (蘇治芬) yesterday said that the Vietnamese government did not give any explanation for a series of difficulties she encountered on a trip this week.
Su and her entourage returned from Vietnam yesterday after a five-day trip to learn more about a pollution incident involving a Formosa Plastics Group steel mill in Ha Tinh Province, visit a Catholic orphanage in Vinh and purchase Vietnamese children's books to promote mother-tongue education in Yunlin County.
Su said her passport was temporarily held at Noi Bai International Airport in Hanoi, the group was prohibited from visiting the orphanage and they were followed on a trip to the steel mill.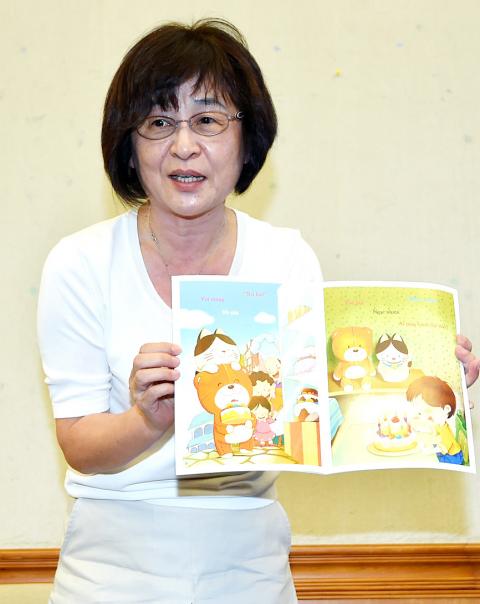 Democratic Progressive Party Legislator Su Chih-feng holds up a Vietnamese children's book at a news conference at the Legislative Yuan in Taipei yesterday.
Photo: Liao Chen-huei, Taipei Times
"The Vietnamese government did not make any direct or indirect contact with us," she said. "I still do not understand why my passport was held by airline clerks."
Su's passport was held for unknown reasons when the group was to fly to Vinh.
After Representative to Vietnam Richard Shih (石瑞琦) negotiated with Vietnamese officials, the group was told that they were not allowed to visit the orphanage, so they canceled that event and went to Ha Tinh by bus, Su said.
While media reports said that Su was blocked because the church is an "anti-[Vietnamese] government" organization, Su said she was totally unaware of the church's political nature and they simply wanted to visit the orphanage for charity purposes.
"I do not know any so-called anti-government people or dissidents," she said.
"I still do not know whether the church leadership are anti-government," she added.
Brushing aside speculation that her passport was held because the group planned to visit places not listed on her visa application, Su said they went to Vietnam on tourist visas and they were never asked to provide an itinerary, so there was no conflict between the planned trip and where they actually went.
They were never asked to explain the purpose of their travel, but they were not given any explanation for the situation, Su said, adding that the group never met any Vietnamese officials, while negotiations were conducted by Shih.
In Ha Tinh, the group was followed by plainclothes police officers and they had to ask permission to visit places, Su said. The police arranged a visit to a head massage parlor and watched during the time there.
"It is impossible to feel comfortable while being followed," she said.
Su quoted chemist Ding Guo-tsuen (丁國村), who was with the group, as saying that the Formosa Ha Tinh Steel Corp plant is a world-class facility, but that could not prevent human error.
She said that even after the visit, the group did not understand anything about the pollution incident other than what was reported by the media, but she questioned the transparency of the Vietnamese government's investigation.
Hanoi said the plant was responsible for causing a mass fish die-off in the province and downstream areas in April.
"We cannot reach a definite conclusion on the pollution incident," Su said. "The Vietnamese government is obliged to make its investigation report public."
Su reaffirmed her endorsement of the government's "new southbound policy" amid concerns that the issues she faced on the trip might spell its failure.
The presence of Taiwanese companies is strong in Vietnam and Vietnamese are energetic and friendly toward Taiwanese, she said.
Comments will be moderated. Keep comments relevant to the article. Remarks containing abusive and obscene language, personal attacks of any kind or promotion will be removed and the user banned. Final decision will be at the discretion of the Taipei Times.