SOUTH CHINA SEA: Taipei's rejection of ruling a mistake, US pundits say
China's defiant reaction to the South China Sea ruling by the Permanent Court of Arbitration in The Hague — and Taiwan's own rejection of the ruling — have been met with warnings from US pundits, although US Department of State sources said they needed more time to consider statements from Taipei and Beijing.
Taipei's response openly rejecting the decision was "a big mistake," New York University School of Law professor Jerome Cohen said.
He said that President Tsai Ing-wen (蔡英文) was struggling to adjust "to an uncomfortable situation" and that she would be criticized at home for following Beijing's "lawless line at the same time that Beijing was responsible for excluding Taiwan from participation in the arbitration."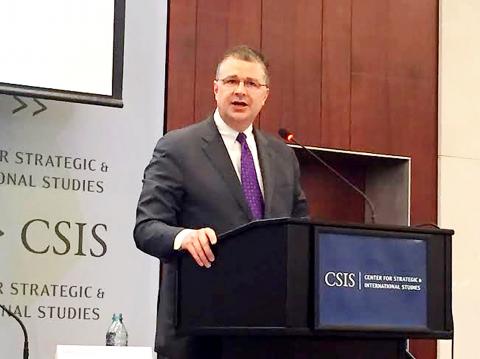 US National Security Council Senior Director for Asian Affairs Daniel Kritenbrink speaks at the Center for Strategic and International Studies in Washington on Tuesday.
Photo: Nadia Tsao, Taipei Times
American Enterprise Institute research fellow Michael Mazza said: "Unfortunately, Taipei's reaction to today's [Tuesday's] ruling may only deepen a feeling among other claimants that Taiwan is part of the problem rather than part of the solution."
Taipei's frustration is understandable, but its official response might prove to be shortsighted, he said.
"The Tsai Ing-wen administration should have seen this as an opportunity to clarify — not jettison — its own South China Sea claims and reassure the international community that, unlike Beijing, those claims accord with international law," Mazza said.
He said that in recent years Taipei had struggled to dissuade others of the notion that its South China Sea claims were aligned with Beijing's and that the two capitals coordinated their approach to the dispute.
Writing on institutes Web site, Mazza said that Taipei presumably wants a seat at the table if and when the disputes are eventually resolved, but that other claimants were less likely to welcome a Taiwanese role if the nation's claims were seen as identical to China's.
"A Taiwan that precisely identifies which land features it claims and on what basis, which clarifies what it means by 'relevant waters,' which accepts the judgement of an impartial, internationally sanctioned arbitral tribunal, and which is prepared to play a constructive role in the South China Sea — that's a Taiwan with which other claimants will believe they can work to ultimately achieve a just settlement," he said.
The ruling from The Hague came as the Washington-based Center for Strategic and International Studies held is sixth annual South China Sea Conference.
US Senator Dan Sullivan, a member of the US Senate Armed Services Committee, told the conference that Beijing had the "strategic intent" to gain control over the first and ultimately the second island chains.
He said the rapid rise of China's maritime operations, the lightning construction of military airfields on reclaimed land and the complete disregard of opportunities to compromise or negotiate were all indications of Beijing's end goal.
Sullivan said that China wanted "regional hegemonic dominance of this critical cross-roads of international commerce."
Before the conference began, Sullivan and committee chairman US Senator John McCain issued a joint statement urging that the US military continue to fly, sail and operate wherever international law allows.
"This includes regularly challenging China's excessive maritime claims and maintaining a persistent presence of surface combatants and rotational aviation assets inside the first island chain," they said. "Moreover, the US government must clearly communicate our interests in the South China Sea, including the prevention of reclamation and militarization at strategic locations like Scarborough Shoal [Huangyan Island, 黃岩島] that would alter the status quo and potentially destabilize the region."
Taiwan also claims this feature.
Sullivan said there were "disturbing signs" that China had chosen to employ a policy of intimidation and coercion toward its neighbors.
"But there should be no mistake that the US will stand by its alliance commitments and the preservation of an open and rules-based order in the Asia Pacific," he said.
The State Department said in a formal statement that the decision by the tribunal in the Philippines-China arbitration was final and legally binding and urged all claimants to avoid provocative statements or actions.
The statement was reinforced by US National Security Council Senior Director for Asian Affairs Daniel Kritenbrink, who told the conference that the US would need time to study the "precise implications" of the tribunal's ruling.
However, the US is not prepared to accept the emergence of a different set of rules in the South China Sea relative to the rest of the world, he said.
"We are regularly exercising our own military capacity in the South China Sea," he said. "It is a fact that our forces and China's are operating within closer proximity of each other with increasing frequency... We recognize that this raises the risks of incidents and so does Beijing."
Comments will be moderated. Keep comments relevant to the article. Remarks containing abusive and obscene language, personal attacks of any kind or promotion will be removed and the user banned. Final decision will be at the discretion of the Taipei Times.