Muslims celebrating Eid al-Fitr gather at Taipei Main Station
Thousands of Muslims, many of whom are workers from Indonesia, yesterday gathered at Taipei Railway Station for Eid al-Fitr, a celebration that marks the end of the holy month of Ramadan.
At 8am, Muslims began filling the lobby of the station, a favorite gathering spot for Southeast Asians in northern Taiwan at weekends.
By 10am, about 15,000 visitors visitors had arrived, with a further 30,000 coming into the station to escape the rain at noon, far surpassing the station's capacity of 5,000 people, Taipei Railway Station Master Huang Jung-hua (黃榮華) said.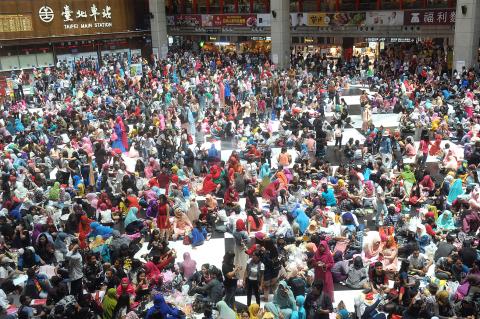 Muslims gather at Taipei Railway Station yesterday to celebrate Eid al-Fitr.
Photo: Lo Pei-der, Taipei Times
"Eid al-Fitr is very important to Muslims, much like Lunar New Year is to us. While we sincerely apologize to passengers for any inconvenience that might have been caused by the unusually high number of visitors to the station today, we also hope that passengers will respect the cultures of different peoples," he said.
Huang said that since the station was renovated four years ago to include a large central courtyard, Muslim migrant workers have increasingly begun to adopt it as a gathering place during Eid al-Fitr.
"Taipei Railway Station respects this use of the station and hopes all passengers can see the gathering from a positive and friendly perspective. After all, this is a once-in-a-year celebration for these people," Huang said. "We appreciate the patience of passengers despite the inconvenience they might experience today [Sunday]."
According to Taiwan Railways Administration (TRA) officials, in addition to regular staff, 60 employees from the TRA, the Taipei locomotive depot, the Association for the Integration of Migrant Workers and the Taipei Grand Mosque Society, as well as an additional five cleaning staff members, were assigned to ensure the safe and normal operation of the station.
Police officers have also been brought in to assist railway police in maintaining public safety in the area of the station, the officials added.
The arrangements made by the TRA to offer Muslims a space at Taipei Railway Station for the celebration was a positive move, said Agusdin Subiantoro, deputy director of Indonesia's National Agency for the Placement and Protection of Indonesian Migrant Workers, in Jakarta.
However, he said he hoped that venues could be set up in Taiwan specifically for Indonesian workers to congregate for religious events.
Meanwhile, the Taipei City government also held a one-day event at Expo Park for Indonesian and other Muslims to celebrate Eid al-Fitr. The celebrations included performances by Indonesian singer Siti Badriah and several bands, including Real Play, Marya Isma and the Reggae Rasta Kurawa Band.
Additional reporting by CNA
Comments will be moderated. Keep comments relevant to the article. Remarks containing abusive and obscene language, personal attacks of any kind or promotion will be removed and the user banned. Final decision will be at the discretion of the Taipei Times.