Education union protests against Cordon Bleu's plans in Kaoshiung
Plans by National Kaohsiung University of Hospitality and Tourism and French culinary institute Le Cordon Bleu to cooperate would misuse public land and resources to fund an elitist "cram school," union activists said yesterday.
"This is a crucial case because the Ministry of Education has always hoped to bring foreign schools into Taiwan and they have now sacrificed tuition restrictions," Taiwan Higher Education Union organization department director Lin Po-yi (林柏儀) said, adding that the move would encourage other schools to sign similar deals, undercutting the public nature of education as schools take advantage of the situation to raise tuition fees.
As many schools are struggling financially amid falling student numbers, private sector cooperation plans that would bring in additional revenue have become a source of contention, with the union contending that many of the schemes would encourage private "rent-seeking" to take unfair advantage of schools' public resources and funding.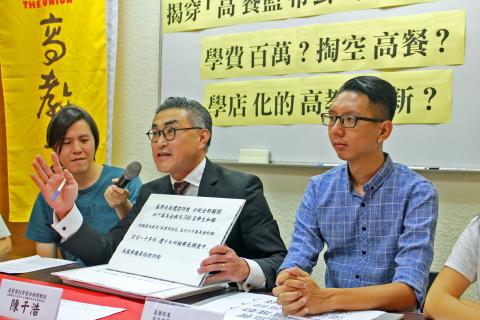 National Kaohsiung University of Hospitality and Tourism assistant professor Chen Chien-hao, center, and Taiwan Higher Education Union organization department director Lin Po-yi, left, hold a press conference yesterday in Kaohsiung, protesting against what they say would be an elitist "cram school" in Taiwan.
Photo courtesy of the Taiwan Higher Education Union
The contract is for the university and Le Cordon Bleu to establish a for-profit institute in a refurbished university building, stipulating tuition fees of more than NT$1 million (US$30,670) for a 15-month program.
Yearly tuition for universities in Taiwan range from about NT$60,000 to NT$100,000.
Lin said the university should stop admitting people to the joint venture until a full review of the Ministry of Education's approval is conducted, citing the illegality of the school's plans to hire foreign teachers when approval occurred.
For-profit schools were only allowed to hire foreigners to teach foreign languages prior to a special regulation exception passed by Ministry of Labor earlier this week, which allows foreigners to teach culinary arts.
The "tailored" amendment was unnecessary, given the existing ability of public and private non-profit universities to hire foreign instructors directly, Lin said.
"This amendment was designed to get Le Cordon Bleu out of a pinch — not to protect the labor rights of foreigners," he said. "Even though they will charge extremely high tuition fees, they actually only intend to bring in two foreign instructors."
The new institute intends to admit 64 students starting next month.
The university has also been criticized for sacrificing one of its buildings for the institute.
"The building was constructed with government funding, but our students will not be able to use it," Chen Chien-hao (陳千浩), an assistant professor at the university said, adding that the institute pushed out the original student cafeteria, which was forced to move to a basement.
"It would not be such a big deal if we were dealing with Harvard — but this a diploma mill," he said, citing legal controversy forcing the closure of Le Cordon Bleu schools in the US.
Wang Ying-shun (王映舜) — a former deputy student council president at the Kaohsiung university — said that promises to allow regular students to intern at the institute were "flimsy" as there would likely be just one or two openings available given its small class size.
Interns would also likely be responsible for helping out with "odds and ends" rather than being allowed meaningful participation, Wang said.
Comments will be moderated. Keep comments relevant to the article. Remarks containing abusive and obscene language, personal attacks of any kind or promotion will be removed and the user banned. Final decision will be at the discretion of the Taipei Times.